The Extremely Patriotic Bush Twins
Copyright © 2005-2012 Timothy Horrigan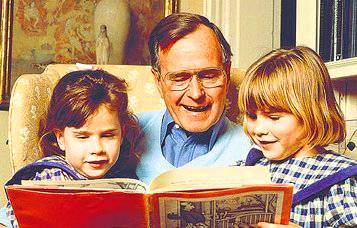 ---
[April 14, 2013] Jenna has given birth. Margaret Laura Bush was born on Saturday night, April 13, 2013 at 8:43 pm, in New York City. She has already acquired a nickname: "Mila." Welcome to the world, Mila.
See:
[December 12, 2012] Jenna is pregnant. She and her husband Henry Hager have been living in New York for a while: she is still working for the Today Show (which is where she made the official announcement) and he is working for KKR (an investment firm formerly known as Kohlberg, Kravis & Roberts.)
[February 1, 2011] Barbara seldom speaks out, but on January 31, 2011, she spoke out for marriage equality.
[July 31, 2010] Another Presidential daughter is getting married: Chelsea Clinton is marrying her longtime sweetheart Marc Mezvinsky. For more info see:
BTW, A picture of (and some info about) Barbara's beau, Jay Blount, is halfway down the page. You could click right here to jump to the right place (but it is more fun to scroll down to see the stuff in-between.)
---
[July 1, 2010] In June 2010, Barbara annoyed her father's conservative allies by (somewhat belatedly) expressing her support for "ObamaCare." She asked the rhetorical question on FoxNews, ""Why do, basically, people with money have good health care and why do people who live on lower salaries not have good health care? Health should be a right for everyone."
The Twins' mother also expressed some liberal views in her post-White House memoir, Spoken from the Heart.
---
[June 30, 2010] Jenna is touring the USA's National Parks for the NBC Today Show. Jenna's field reportage attracted national attention— especially from comedian Chelsea Handler— but maybe not the type of attention she was hoping for.
---
[September 17, 2009] Jenna got back in the news at the end of August 2009: she joined the NBC Today Show team. She will do occasional reports on educational issues, while continuing to teach reading in Maryland. She said this "wasn't something I'd always dreamed to do," but she decided to accept NBC's invitation to join this team. She explains: " I hope to focus on what I'm passionate about because I think I'd do them best job on them— education, urban education, women and children's issues and literacy. " Myself, I am certain that absolutely no nepotism could possibly have been involved: doubtless, she was merely the only person NBC could find who combined vast expertise in education-related issues with extensive on-camera experience.
See Also:
---
[July 21-23, 2009] Jenna & Barbara Bush stayed out of the news for a while— until a investigative journalist named Ronald Kessler put out a book entitled: In the President's Secret Service: Behind the Scenes with Agents in the Line of Fire and the Presidents They Protect
which dealt extensively with Jenna & Barbara's antics while serving as First Daughters. The revelations about the Twins don't seem too shocking: they were spirited young women who sometimes rebelled against being followed around by cops all the time.
The same week that Kessler's book appeared, Jenna did some publicity for UNICEF USA, promoting an effort called "Project Sprinkles" which distributes vitamin and mineral supplements to Third World children, for just $3.50 per year per child.
See Also:
[January 20, 2009] Back in 2005, I created this page after seeing that there was a demand for pictures of and commentary on the Bush Twins. (Initially, there was just a single picture of them on a page about the theft of the 2004 election.) I am thinking of getting rid of my Bush Twins material, since they never were very relevant and now that their dad is no longer President, they are totally irrelevant— although Jenna has become a somewhat successful children's book author.
But, instead I will leave it up for a while longer, but in shortened form.
I also have several additional Bush Twins-related pages:
And please check out my novel The Forgotten Liars:

The Extremely Patriotic Bush Twins
Barbara and Jenna Bush are two seemingly likeable young ladies who happen to be Bush II's and Laura Bush's daughters. Barbara is the brunette and Jenna is the blonde. Confusingly, Barbara is the one who doesn't look exactly like her famous grandmother by the same name .
Barbara is the quiet and serious twin, and she was also the one who hit the jackpot in the college-admissions lottery by landing a slot at Yale. Jenna is a boisterous fun-loving blonde, and she went to a school which is significantly farther down the admissions food chain than Yale, but ironically she is the smarter one. Jenna, who was the most laughed-at member of the Bush family, ironically turned out to be the only Bush (aside from Condoleeza Rice) who has a career in public life left at the end of her father 's Reign of Error.
She grew up into a respected author and teacher. Barbara is something of a mystery woman: she has apparently been working for a very low-profile organization called the Global Health Corps (not to be confused with the world-famous Global Health Council.)
For some reason it troubled me that Jenna & Barbara were not in the service. Their father's war in Iraq has been going on for almost six years now (and the 9/11 attacks happened way back in 2001.) During these years, neither Jenna nor Barbara have ever been moved to volunteer for the military. Over 4,500 members of their generation (and that's just the official count of US troops only) have lost their lives in Iraq. (Click here for the complete list of fallen troops, courtesy of Icasualties.Org.) Jenna and Barbara are, nevertheless, patriots who have resolutely and consistently supported their father's quest to impose Dick Cheney's and General Betrayus's version of freedom and democracy on the rest of the world (and to protect our oil supply.)
The Twins stayed out of the spotlight during their father's first term in office (aside from a few episodes of underage drinking) and they remained apolitical till the 2004 campaign, which they did actively participate in. On August 31, 2004, the Twins electrified the nation and the whole world with their address to the 2004 Republican National Convention. This speech— which established them as the exemplars of a new generation of American leaders— was instantly recognized as one of the most historic convention speeches of all time— right up there with William Jennings Bryan's "Cross of Gold Speech" or even Newt Gingrich's "Beach Volleyball Speech."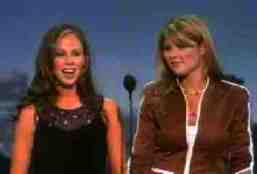 In the fall of 2006, Jenna actually became the subject of conspiracy theories. She was allegedly sent to the remote South American republic of Paraguay to negotiate the Bush family's purchase of a huge ranch which would be her father's sanctuary after he flees the country to avoid prosecution for his crimes. The White House actually admitted that she was in Paraguay, but they claimed she was there to Trick or Treat for Unicef .
In late November 2006, both twins were sighted in Argentina, where they enjoyed a rather bizarre vacation in Buenos Aires. It is not clear exactly what happened, but we do know for certain that one of their Secret Service
agents was mugged while cruising the local gay bar district. Even more oddly, a thief managed to steal Barbara's purse and cellphone while they were having dinner. And, in a not overly convincing attempt to dispel rumors that the the US embassy in Buenos Aires had asked the girls to leave the country, the embassy's press office felt compelled to issue a statement that "The Embassy welcomes the visit and has provided close support and cooperation."
We never heard anything more about Jenna's trip to Paraguay, but her travels to the similarly-named Latin American country of Panama inspired a book entitled Ana's Story: A Journey of Hope.
This is a non-fiction young-adult book about a teenaged single mother with AIDS. Jenna signed a presumably lucrative book contract with HarperCollins (which is owned by Rupert Murdoch, who also owns FauxNews.) Jenna later wrote a second children's book, collaborating with her mother and the illustrator Denise Brunkus:
Read All About It!
On August 16, 2007, Jenna announced her engagement to Henry Hager.I got at least 17,500 extra hits (about six months worth of normal traffic) the day the engagement was announced.
Henry Hager is a heroic young patriot who supported the war effort by serving as an aide to Karl Rove before recently going back to grad school. He is a young MBA who made a huge sacrifice by serving under Rove. He could have taken a lucrative job as a consultant or banker, but instead he toiled long hours fighting for freedom, making a humble GS-11 salary (barely even $60,000/year.) Hager was, most noteably, one of the courageous young men and women who toiled beside Rove in the Situation Room of the basement of the White House during the Hurricane Katrina crisis, documenting the errors made by the liberal Democrats in Louisiana.
Henry Chase Hager is one of two generations of Hagers who served Bush II. His father is John Henry Hager, a former tobacco lobbyist who until 2007 served as the Assistant Secretary of Education for Special Education & Rehab Services. He was in charge of (amongst other things) Special Ed testing programs.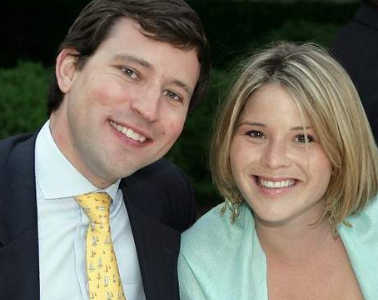 If she had chosen to be married at the White House, she would have been the first White House bride since Tricia Nixon. However, she decided to have her wedding at her parents' ranch in Crawford, Texas, on May 10, 2008. The last child of a sitting President to get married was Jenna's aunt Doro Bush, who had a small ceremony at Camp David near the end of Bush I's reign. (That was her second marriage, so the wedding wasn't a big deal, even though second marriages tend to be the happiest.)
Jenna was in the news a lot in the spring of 2008— not because of the wedding, though. Oh no, of course not! Her wedding was a strictly private affair at her parents' ranch.
No, Jenna was in the news because she and her mother were promoting their new book entitled Read All About It!
This is the inspirational story of Tyrone, a little boy who is a math and science whiz (and presumably tests well) but who thinks he hates reading.
See also:
On May 10, 2008, the wedding went off according to plan: it was an ostenstatiously private affair at the Bush Ranch, which required the government to spend millions locking down a wide swathe of south-central Texas for several days— but some nice pictures were released and it did provide a positive respite from the pervasive negativity of Bush II's Presidency.
After the wedding, the Twins settled into relative obscurity, although Jenna did go on many more book tours. Jenna has also been chairing the " UNICEF's Next Generation" steering committee for young professionals aged 40 and under, which Barbara is also a member of.
In July 2009, there was a bit of an uproar when a gadfly named Ronald Kessler put out a book entitled: In the President's Secret Service: Behind the Scenes with Agents in the Line of Fire and the Presidents They Protect
which dished out some embarassing anecdotes about the Secret Service's attempts to keep up with the Twins (and about their attempts to keep up with all sorts of other people.).
In September 2009, Jenna became a special correspondent for NBC's Today show, specializing in education issues.
---
I have some more random items related to the wedding which are which are available only on the "Jenna Bush Wedding page." The URL for the "Jenna Bush Wedding page." is:
---
I have had a couple of joking references to Barbara Bush's love life on my web site in the past. But now, there is some actual news. Well, kinda, maybe. There are occasional rumors to the effect that she will be marrying her longtime boyfriend Jay Blount. The last version of this rumor stated that an undidentified source said a summer 2009 wedding was planned for the Bush family compound in Maine— but the Bush family's PR person denied the report. For whatever it is worth, the family denied the rumors of Jenna's engagement right up to the day it was officially announced.
Jay Blount is a square-jawed young dude who ironically has been working for an organization called "Envirolution" (as a "Powerpint PIMP") which promotes Green Technology and fights Global Warming. Well, maybe it's not so ironic that she might be marrying an anti-global warming crusader. Barbara is a Republican (though we are not so sure about Jenna's political affiliation), but she (like Jenna) grew up in an era where global warming is simply a fact of life. For her generation, global warming is not something to be denied: it's just one more problem to deal with and maybe even make some money off of.
He has also worked for a management consulting firm called Casey & Quirk, which provides advice to hedge funds, and occasionally publishes white papers with titles like " The Hedge Fund of Tomorrow: Building an Enduring Firm." He seems to no longer be with this company.
See also:
---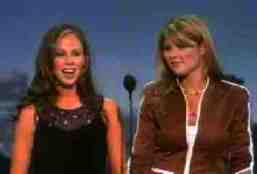 The Twins electrified the nation at the 2004 RNC!
---
Bush Twin Links:
Interesting September 10, 2001 Houston Chronicle article about Jenna & Barbara's work on the issue of substance abuse. For some unknown reason, the media never followed up on this story!

Text of their electrifying address before the 2004 Republican National Convention .

Boston.com's "Twinspotting" Page (about their antics during the 2004 RNC.)

A Letter to the Editor (never published) which I wrote in August 2005 about Bush II, World War II & Gulf War II: the Bush Twins' decision not to serve in Gulf War II does get mentioned.

September 29. 2007 Washington Post story: "Jenna's Story: A New Author Steps Forth" by Bob Thompson. Jenna wants to talk about the book, but she answers questions about many other topics— even the War in Iraq. About the war, she says, "Nobody wants war, I definitely, and my father definitely doesn't want war. But it's a horribly complicated situation." She goes on to say, "I can say it's devastating... I think everybody can agree on that." And, even though she is not in the military, she make the point that (unlike her sister) she has been involved in non-military public service as an educator.

October 11, 2007 Time Magazine "Ten Questions" column: Jenna fended off the question of why she and Barbara aren't in the military by stating, "there are many ways to serve our country, and I think my skills are better suited for teaching and representing the U.S. in Latin America through UNICEF. I respect the men and women of our country who are over there fighting. It is an unbelievably selfless thing to do. But if people really thought about it, they would know it's not even a practical question."


December 5, 2007 Ellen Show appearance: Jenna phones home.

May 28, 2008 Ellen Show appearance: Jenna offers Ellen DeGeneres & Porta DeRossi the use of the ranch for their upcoming marriage. Jenna also shows some new pictures from her own wedding.

Ronald Kessler's book In the President's Secret Service: Behind the Scenes with Agents in the Line of Fire and the Presidents They Protect which dishes some dirt on Jenna and Barbara.

Jenna's July 22, 2009 Good Morning America interview: strictly about UNICEF, although Jenna does mention that her parents are living in Texas (apparently not under house arrest) and are "enjoying life."

July 23, 2009 UNICEF press release: Jenna & Barbara are in favor of improving the lives of children around the world— and are doing a lot to help them.

August 30, 2009 Associated Press article: Jenna joins the NBC Today show team.

December 12. 2012: Jenna announces that she is pregnant (and gives birth 4 months later on April 13, 2013)
---
---
I also have several additional Bush Twins-related pages:
And please check out my novel The Forgotten Liars:
---
Some other Bush-related pages:
---
---
---
---