Chelsea Clinton's Wedding Day; July 31, 2010
This page was formerly part of my Jenna Bush Wedding page. You can see that page at:
---
[July 31, 2010] Another Presidential Daughter Gets Married!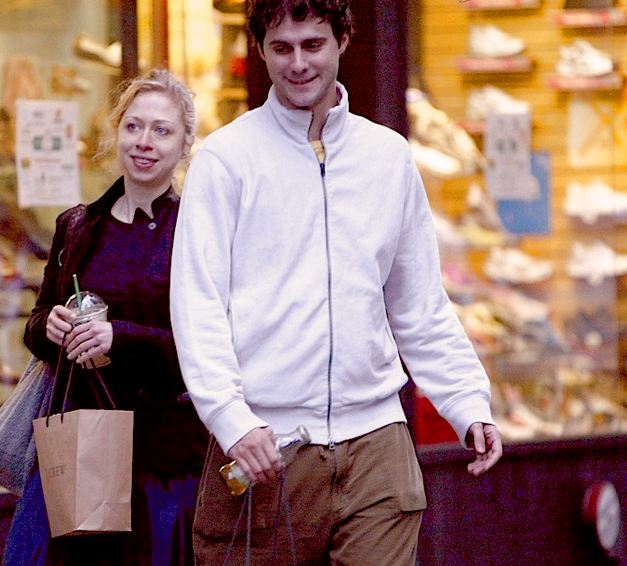 Another Presidential daughter has gotten married: Chelsea Clinton married her fiancee Marc Mezvinsky on Saturday, July 31, 2010. The venue was Astor Courts, a mansion overlooking the Hudson River in Rhinebeck, New York.
Marc is the child of not one but two Democratic Congresspersons: his father is Ed Mezvinsky from Iowa and his mother is Marjorie Margolies-Mezvinsky from Pennsylvania. Both of his parent's careers ended in disgrace: his father ended up spending seven years in jail for fraud, and his mother lost her seat during the 1994 Republican landslide (after being targeted for voting for her son's future father-in-law's budget.)
The budget for Chelsea's wedding is supposedly $2 million, which sounds like a huge waste of money to me. But, her parents can afford it: her father's speaking and consulting fees, her mother's salary, and their book royalties bring in about $15 million per year. Marc Mezvinsky's parents, even though his father is an ex-con, have also been blessed with material fortune. Jenna's wedding reportedly cost the Bush and Hager familes about $100,000 but that does not include millions in security costs paid by the taxpayers.
One thing which bugs me much more than the expense is the fact that Chelsea got married in a state which doesn't have marriage equality. I am not saying they shouldn't have the party as scheduled in New York State. But they should have come to New Hampshire or one of the other marriage-equality states first to say their vows and sign the marriage contract.
Two minor absurdities which strike me funny for some reason are:
The massive media excitement over Ted Danson's presence at the wedding (e.g., see Doree Shafrir's June 22 interview.) He is a fair-to-middling actor who got lucky and managed to get a great role in a long-running sitcom. He is good looking and he is not without talent— and I have no doubt that he is a heck of a nice guy— but he's a nobody compared to his friends Bill & Hillary Clinton. (The wedding proved to be less star-studded than expected. Aside from Danson & his wife Mary Steenburgen, the biggest name seen roaming around Rhinebeck on saturday morning was the ever-glamorous Madeleine Albright.)

The fact that the bride chose a venue whose best features were its Stanford White-designed house and its sweeping views of the Hudson River— and then she spent (if the rumors are correct) millions building a hermetically-sealed tent city which dwarfs the house and totally blocks the view.
The following press release at 7:23 pm Easterm Daylight Time was issued in the names of Secretary of State & Ex-President Clinton:
"Today, we watched with great pride and overwhelming emotion as Chelsea and Marc wed in a beautiful ceremony at Astor Courts, surrounded by family and their close friends. We could not have asked for a more perfect day to celebrate the beginning of their life together, and we are so happy to welcome Marc into our family. On behalf of the newlyweds, we want to give special thanks to the people of Rhinebeck for welcoming us and to everyone for their well-wishes on this special day."
A few pictures were released just a few hours after the ceremony. It was a joint Methodist-Jewish ceremony. It looks like the couple mostly followed Jewish tradition, but they chose to hold their nuptials before (rather after) sundown on the Sabbath.
The bride with her father, just before the moment of truth.
The moment of truth.
There, the vows have been said: they are married! Mazel Tov! I recognize one guest: former White House press secretary Dee Dee Meyers (at left, in, umm, I guess, that color is "rust.")
Marc Mezvinsky with his bride and his in-laws. We may never see a picture of Chelsea with her in-laws: her father-in-law Ed Mezvinsky is on probation and was allowed to attend the ceremony only if he skipped the reception.
The wedding dress was by Vera Wang (who was also a guest at the wedding.) Some women about Chelsea's age were photographed at a shuttle-bus stop dressed in what appear to be some fairly ugly bridesmaids dresses. (The dresses are ugly, not the bridesmaids, who are lovely young women.)
The wedding planner, Bryan Rafanelli, gave an interview to the August 2 New York Times, and he refused to confirm the reports that this was a multimillion dollar wedding. He just said:"I know Chelsea and Marc wanted to have the highest quality. That doesn't mean the most expensive; it just means really a beautiful wedding."
See:
Rafanelli has done much bigger events than Chelsea Clinton's 400-person wedding, like this event in Washington, DC shortly before Obama's inauguration:
The Clinton-Mezvinksy wedding reception probably looked not unlike this event which Rafanelli did earlier in the summer of 2010:
See Also:
---
---
This page was formerly part of my Jenna Bush Wedding page. You can see that page at:
---
Here is a DailyKos diary I wrote a few days before the wedding:
My July 27, 2010 Daily Kos Diary:
"Chelsea Clinton to Be Married in New York State"
Additional commentary by Timothy Horrigan; July 27, 2010
This is a DailyKos diary I wrote in advance of Chelsea Clinton's wedding on July 31, 2010 to Marc Mezvinsky. I have nothing against the blissful couple, who seem like nice young people. I have never met Chelsea, but I have met both Bill and Hillary, who are great people. Hillary is almost the exact opposite of her media stereotype: she is charming and funny and down to earth and very good at remembering people's names. (The only other 2004 and/or 2008 Presidential candidate who remembered who I was from one event to the next was Dennis Kucinich, and he had a lot fewer New Hampshire voters to remember than Hillary did.)
I wrote the diary just to make a few subtle but snarky points about economic equality and gay marriage: during a depression, Chelsea is having a multimillion dollar wedding and she is having it in a state which does not have marriage equality. If she had fallen in love with Marcia rather than Marc, she could not get married in Columbia County, New York. The comments were few and mostly negative.
Here is the text of the diary anyway:
---
Original URL:
I accidentally became an expert on Presidential progeny and their nuptials in 2007. I happened to have a picture of Jenna Bush's boyfriend on my Bush Twins page along with a fleeting mention of his name (a Karl Rove aide named Henry Hager.) When the news broke, mine was one of the highest ranking pages on Google when surfers searched on his name, and I got about 18 months's worth of hits in one day. The reason I had a Bush Twins page in the first place was originally as a war protest.
Jenna Bush got married in May 2008, apparently happily. And now another Presidential child, Chelsea Clinton is getting married.
I am not going to pompously bloviate about how I am not interested in the upcoming Clinton-Mezvinsky wedding, although I do have more pressing concerns to worry about. I certainly wish the young couple well.
I would like to make a small complaint. Not about the price. The cost of the wedding has been variously estimated at $2 million, $3 million and even $5 million. Whatever the cost, the usually sensible and unselfassuming bride is uncharacteristically going on an orgy of conspicuous consumption, featuring three caterers, multiple $15,000 portapotties and much much more. Maybe I should say "conspicuously inconspicuous consumption" since the ceremony will be strictly private, and limited to 400 or 500 of the ex-President and current Secretary of State's closest family friends. The rest of us will only see a few selected photos, but we will be encouraged to imagine the rest of the event.
Like I said, I am not complaining about the price. Bill Clinton makes about $15 million a year from his speaking and consulting fees. Hillary and Chelsea make good money themselves, even they are both on salary. This family, even though it comes from humble roots, can afford to blow $2 million or more on a party. I can think of better ways to spend a few million, but I can also think of worse ways. If nothing else, a wedding party is a highly labor intensive project, so this will provide an economic stimulus.
I am complaining about the venue. The Clintons are renting some other family's ancestral manor house for the weekend: Astor Courts, one of the estates of the 19th century robber baron family by that name (Astor, I mean, rather than Court.) The setting is often described as Gatsby-esque, which signifies glamor--- even though Gatsby was a sad man who died an early and tragic death.
Ironically, the setting was chosen in part for its natural beauty: the estate sits on a hillside overlooking the Hudson River... but the guests will not be able to fully enjoy the setting. The wedding will take place under tents and there will be helicopters overhead as part of the heavy security.
I am not complaining about the venue because it's Astor Courts. I am sure it is a perfectly lovely place. I am complaining because it is in New York State. New York is one of the states which has not embraced marriage equality. Its state Senate rejected marriage equality last year after some very ugly political wrangling. If Chelsea had wanted to marry Marcia instead of Marc, she would not be able to do so in New York State. (Ditto if Marc wanted to marry Sheldon instead of Chelsea.)
I think Chelsea and March should officially say their vows and sign their marriage contract in some other state. They can still have the party as scheduled in Columbia County, New York, but the actual marriage should be contracted elsewhere. I recommend my home state of New Hampshire. I have several friends who are justices of the peace who would be delighted to be Chelsea and Marc's officiant. It is not too late for the happy couple to do the right thing.
---
See Also:
Marc Mezvinsky & Chelsea Clinton shortly after they first met; Hilton Head, SC; New Year's Eve 1996. They were attending a "Renaissance Weekend" conference with their parents.

---
---
This page was formerly part of my
Jenna Bush Wedding page. You can see that page at: