D.J. Bettencourt Resigns— Twice!
Additional commentary by Timothy Horrigan; May 27-30, 2012
I am infamous for resigning from the New Hampshire House in August 2010 after making some foolish (albeit truthful) remarks on Facebook about Sarah Palin. I made those remarks on my fellow Rep. D.J. Bettencourt's Facebook wall. He has had some Facebook misadventures of his own, most noteably when he called the Bishop of Manchester a "pedophile pimp" during the debate over the 2011-2012 state budget. And now he has resigned before his term was over. What did him in was a seemingly innocent Facebook posting on May 19, 2012 stating that he had graduated from the UNH Law School.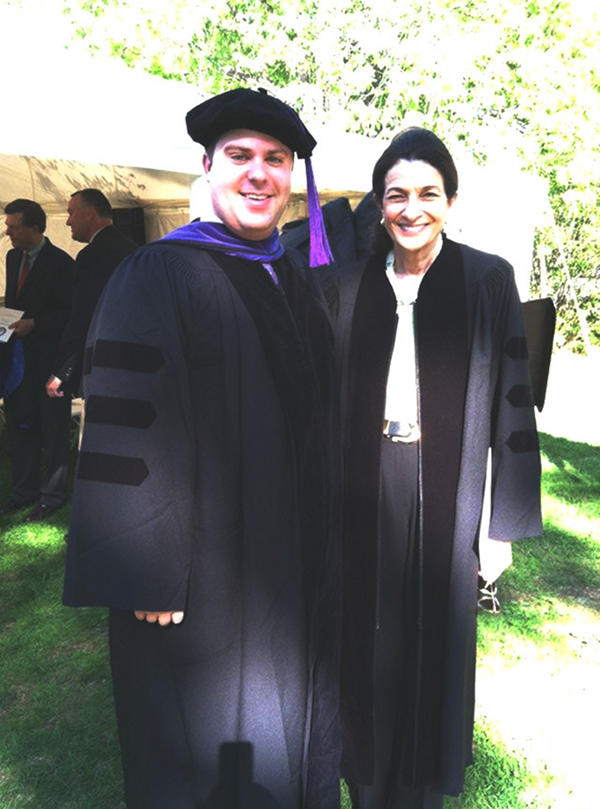 DJ Bettencourt with US Senator Olympia Snowe.
I was rather surprised to learn that he graduated on time, since he was the House Majority Leader, which is a full time job in and of itself. But I chalked it up to his being a remarkable individual.
I was however not surprised when he announced that he was not running for re-election on May 25, 2012 (the Friday before Memorial Day.) He was an ambitious guy who was about to marry a smart woman (NH House staffer Shannon Shutts.) It's hard to support a growing family on $100/year plus mileage. (Those mileage payments were the subject of constant controversy during Bettencourt's final term, but I digress....)
I figured he would be looking for a better-paying job. He did find a better-paying job, too, with a shadowy but apparently well-financed group (founded by Speaker O'Brien) called the New Hampshire Legal Rights Foundation. What surprised me was that he was resigning his House seat, effective as of the close of business on June 6, 2012. That would be the last day of the 2012 session, barring any veto days or special sessions (both of which were distinct possibilities.)
"While it has been an honor to serve in the legislature representing the citizens of Salem and Windham and to serve as Majority Leader, it is time for me to move on to the next exciting phase of my life. I'm getting married next week and I am at a point in my life where my family should and needs to be my first priority. It is also critical that I am able to focus my full attention on my role as Executive Director of the New Hampshire Legal Rights Foundation. This cannot happen while there is the potential for conflict with my role as a member of the House. As such, I will not be running for for re-election this fall and will be leaving the legislature at the conclusion of legislative business on June 6th so I can finish the important work of this legislative session. Once again, I'd like to thank my constituents for the honor of serving them and to my colleagues in the House who I have had the pleasure of working with over the last eight years."
The story took an ugly turn the next day, Saturday, May 26. Brandon Giuda, a rookie Republican rep from Chichester, revealed that D.J. had signed up for an internship at his law firm, and then failed to show up. (In retrospect, it seems like a conflict of interest just having the House Majority Leader do an internship in a first-term rep's law office.) Bettencourt was supposed to do 15 hours a week for 11 weeks: he did exactly 1 of the required 165 hours. Giuda assumed Bettencourt had dropped the course and would be graduating late, as many students do. But then, Guida discovered that Bettencourt had written a totally fictitious internship report, detailing hearings and meetings which never took place. This is a rather serious breach of academic and legal ethics. I hasten to add that his degree was not in fact given to him on graduation day, although he was able to attend the ceremony.
D.J. issued a second resignation statement on Sunday, May 27, 2011:
"With deep disappointment, I announce that I am leaving the legislature immediately. Serving the people of Salem and Windham as majority leader has been one of the highest privileges of my life. It is true that I misrepresented work as work I performed for attorney Giuda. I take full responsibility for my conduct; I apologize to my family, friends, colleagues and above all, my constituents. I will continue working with UNH School of Law to resolve this matter and I fully trust the process they have in place. That process is non-public and that is how I plan to proceed."
Speaker O'Brien's public response, which also spoke about disappointment rather than sadness or outrage, was:
"Certainly, we are disappointed to hear about Rep. Bettencourt's resignation from the House. He played an important part in achieving a historic budget that closed a nearly $1 billion deficit, in providing tax and regulatory relief to help grow New Hampshire's economy and moving forward an agenda based on Republican principles of lower taxes and limited government. Clearly, he has a number of challenges to work through as he moves forward with his family and career. I wish him the best of luck in the future."
On Sunday, May 27th, O'Brien sent the following email to his fellow Republicans. He has had nothing to say to us Democrats, but he never says anything to us. He does talk about us in the email, though not by name:
Dear Colleagues:
Early Friday morning, Brandon Giuda contacted me and said that D.J. Bettencourt had submitted to his law school false records relating to an internship that he had with Brandon. I met with both of them later that morning, and it was clear to me that there was substance to that claim. Consequently, it was agreed that D.J. would immediately announce his resignation as majority leader and a House member effective at the end of the June 6 session, and he would cite personal problems as the reason for his resignation. It was also understood that he would immediately contact the law school and begin the process of self-disclosing the wrong that he had committed.
After the announcement by D.J. of his resignation, Brandon again contacted me and said the reasons given by D.J. to the press for resigning were wrong and did not properly state why he was resigning. Brandon stated that it was necessary that Brandon publicly correct the record. [note: this probably should read "Brandon stated that it was necessary that D.J. publicly correct the record."] As we have seen, he has done so.
Today, D.J. announced to the press that he is resigning immediately as a House member. I spoke with him a short time ago for the first time since Friday, and he has confirmed his immediate resignation.
Now we are left with the consequences of this event. There will be those that say that D.J.'s failure and his resignation characterize our current majority. Others will say that it characterizes the leadership of our caucus. Neither is true.
D.J.'s error is personal to him and was a deeply wrong choice he made on his own. His mistake characterizes neither the caucus who elected him as majority leader nor the remaining members of leadership or of our caucus who have relied on him to join our efforts in bringing forward the Republican solutions our state so sorely needed and continues to need.
Indeed, it needs to be said, failure of this sort by a leader is particularly upsetting to all of us because it is so clearly at odds with our party's ideal, and our personal ideal, of selfless service of elected officials on behalf of our state. Moreover, it is a breach of the implicit promise any elected leader - whether elected by voters or in a caucus - to at all time be ethical and honest in not only our legislative efforts, but also in our personal lives. It also is at odds with the direction I gave to all House leadership at the beginning of the session that honesty, integrity and ethical behavior will be the foundation for all our efforts and that I would have no tolerance for any leader who departs from that foundational standard.
Our opposition, of course, decided early on that their agenda of overspending, robust taxes and radical social change would not get them a majority, but that arguments of process, name-calling and false allegations of wrongdoing will be adequate substitutes. Unfortunately, this episode will be used by them to pump life into what up to this point have been vapid arguments that have resonated only with their base. We need to take two steps to avoid this effort from becoming effective because of this episode.
The first thing we need to do is not engage in self-flagellation and ignore those in our caucus who will take delight in using this episode to gain for themselves the relevance they have lost over the prior two years. It is time to be united. We have made amazing gains for New Hampshire over the past two years and we should be proud of those gains. Those successes and not one member's failure outside of his legislative activities are the characteristics of our efforts.
Secondly, we need to focus on the remainder of this session. We have two session days left - one this upcoming week and another on June 6. We will have votes on several constitutional amendments, pension reform, and many other items of important legislation. Much of this legislation will complete our efforts to keep our promises of 18 months ago to the people of New Hampshire. The people deserve us not being distracted from completing our agenda.
I will be in touch again with all of you as we work through the consequences of this episode and the remainder of our legislative term. If anyone of you has a question or concern, please get in touch with me. Send me an email or call me. However, most importantly, let us not turn on each other, but let us instead turn to the reforms for which we sought election and were charged by the people to pursue.
Finally, may I make one additional request of you? Please join me in bringing D.J. and his family into our prayers. He and they will face significant challenges, and I hope that through the Lord he will find the strength of character and the support that will allow him to come to a life of meaning and grace.
On Monday, May 29, 2012 Speaker O'Brien gave a press conference flanked by the (almost entirely silent) Deputy Speaker Pam Tucker and newly appointed Majority Leader Peter Silva:

Rep. Bettencourt's resignation letter was officially read in to the House Journal on Wednesday, May 30:
Mr. Speaker,
It is with deep sadness that I resign from the New Hampshire House of Representatives, the finest body of citizen legislators in the world. Obviously, this is not how I wished to say goodbye to the wonderful people I have had the pleasure of serving and becoming friends with these past eight years. It is among my many regrets that, through my own fault, I cannot express my thanks and say farewell to you all in person. I want the House to know that I am sorry for my inexcusable lapse of judgment and integrity. We are citizen legislators— our obligations as legislators never relieve us of our obligations as citizens. I have breached those citizen obligations and I stand ready for the consequences. I apologize to the University Of New Hampshire School Of Law, my fellow students, alumni, Dean Broderick, and Representative Giuda. They have offered me a coveted opportunity to learn and be a part of an honorable and rewarding profession. But that profession comes with high expectations that my actions demonstrate I am not yet ready to meet. I can only hope that I will one day be worthy of it. I apologize to the citizens of Salem and Windham. Representing you in the General Court has been an honor of my life, and I gave it my all. I look forward to working to regain your trust and reconnecting with you as a neighbor and friend instead of as an elected official. Finally, I want to apologize to my family. I was raised to be much better than this. To the extent I have fallen short, the fault is entirely my own. Thank you to those who have expressed your love and prayers. Your kindness and compassion to a man who does not deserve it are appreciated beyond my ability to put them into words. Thank you to all Members and staff of the House, both Republican and Democrat, who make the sacrifice to serve our wonderful state. That sacrifice is worth it. Continue to do your best to, in whatever limited way that government can, make New Hampshire the most prosperous, free, fair, and joyous place on Earth. May God bless you and the state that we love.
Best always,
D.J. Bettencourt
---
[November 30, 2012]
Six months after DJ resigned, I happened upon the following Twitter tweet by William Tucker of MiscellanyBlue.com fame:

Here is the somewhat grandiose statement by the former majority leader, posted as an open letter in the Salem, NH Patch telling us basically that he is still alive and well. Two pieces of good news to which he only passingly alludes are that he got married (to a lovely and extraordinarily forgiving woman) and that he and his wife now are blessed with a beautiful baby girl:

A Note of Gratitude to My Friends and Neighbors
November 30, 2012


D.J. Bettencourt
Former State Representative and Special Education Instructional Aide

In 2004 the citizens of Salem and Windham blessed me with one of the honors of my life when they elected me to the New Hampshire House of Representatives. It was a privilege for which I will always be immensely grateful and I thank them for allowing me eight rewarding years representing them. Additionally, I am deeply indebted to my legislative colleagues for so many treasured friendships and memories. I wish the new legislature Godspeed as they undertake the consequential 2013-2014 legislative session.

While I am proud of my accomplishments and success at the State House, nothing can erase my regret about the manner in which my service concluded. Words are inadequate to articulate my disappointment; therefore I will simply say I am sorry. There are no excuses, I should have known better and I do know better.

Some have asked, "What's next?" My first priority will always focus on being a good husband and father. In addition to these personal joys and my professional endeavors, I will begin a journey of dedicated public service and volunteerism to fully account for my mistake and channel my disappointment in a positive way that continues serving New Hampshire. I plan on dedicating myself to increasing access to justice, promoting the importance of ethics, and assisting disadvantaged children and veterans.

This humbling journey will last for the rest of my life and will cultivate increased magnanimity, personal growth, and devotion to my Catholic faith. While some will always celebrate my lapse in judgment, I humbly pray for an open mind as I work to rebuild faith and earn forgiveness from those who blessed me with their trust and friendship.


Original URL: http://salem-nh.patch.com/blog_posts/a-note-of-gratitude-to-my-friends-and-neighbors
See Also:
---
---