My August 14, 2007 Barry Bonds Letter
by Timothy Horrigan © 2007-2009
Here is a letter I wrote to the Portsmouth Herald shortly after Barry Bonds broke Major League Baseball's career home run record. (It may in fact have been published as an op-ed piece: the paper never called me to say that they were running my letter, and I forgot to buy the August 14, 2007 dead-tree edition.)
I don't condone the use of steroids — not because they give baseball players an "unfair" advantage but rather because they are bad for your health. And I also think that excessive muscle mass is dangerous in and of itself, even if a kid uses "fair" and "natural" methods of bulking up. I don't have any particular feelings one way or the other about Bonds, although we do go a long way back: I remember reading about him in the L.A. Times sports page back in the 1980s when he was a teenage phenom.
I tend to have an odd affection for ballplayers who fuck up and set bad examples for the kiddies. When I was a Little Leaguer myself, two of my favorite players were Denny McLain and Pete Rose, arguably the two biggest fuck-ups in Major League history. Even back in the day, I knew just from reading their life stories that these were immensely talented but deeply flawed human beings. And I found that liberating, being a flawed human being myself.
In any case, the Bonds controversy isn't going away anytime soon. Five years after he retires, he comes up for a Hall of Fame vote, and many writers will vote against him even though he's one of the greatest players of all time. Even before those five years go by, baseball writers will be griping about how they won't be voting for him when his time does come. Even before he retired, two of Bonds's more noteable contemporaries failed to get voted in, largely because of writers setting a precedent for not voting for Bonds himself: Mark McGwire and Jose Canseco.
[October 15, 2008] . Bonds didn't retire in 2008, but the whole season went by and no team bothered to sign him. He ended up with 762 home runs, 2935 hits, 2227 runs scored,1996 RBIs, and a .298 batting average (not to mention an incredible 2558 walks.) He was within one season of several other significant landmarks, including 3000 hits and Rickey Henderson's record 2295 runs scored.
Bonds's "hallowed" career home run record may not last that long anyway. Alex Rodriguez is just 33 years old and has already has 553 homers. Although he is still a long way away from 762, you gotta like A-Rod's chances of hitting 210 more home runs. In addition to being young. A-Rod is very consistent (and so far, at least) very durable. Jim Thome (age 38, 541 homers) and Manny Ramirez (chronological age somewhere in his mid-30s to early 40s, official age 36, emotional age 16; 527 homers) also have semi-plausible shots at breaking the current record.
It looks like Bonds may not even end up being the greatest player of all time not to be in the Hall of Fame: The legendary pitcher Roger Clemens has also got in a mess of trouble.
[February 8, 2009] I mentioned Alex "A-Rod" Rodriguez in my letter and in my commentary: he is on a pace to break Bonds' record. He is about a half dozen seasons short of 763 homer runs, but he appears to have quite a few seaons left in him. At the time, I thought he was clean. He has been known to cheat on the field and he cheated on his wife, and he even cheated on Madonna— but I didn't think he was cheating chemically. But shortly before spring training 2009, there were news stories to the effect that unnamed but reliable sources were saying that A-Rod had failed a steroid test in 2003, back when he played for the Texas Rangers.. So, just like Clemens and Bonds, A-Rod may not be getting his plaque in Cooperstown.
The current active home run leader, by the way, with 611 HR's, is Ken Griffey, Jr., even though his career was interrupted several times by injury during the 00's. He did manage to play two full seasons in a row in 2007 and 2008, but he is 39 years old. I didn't mention him earlier, because he seems unlikely to hit 152 homers before he retires.
The original URL for my letter (may be subject to link rot):
---
There has been a lot of whining about the fact that Barry Bonds has broken what is often referred to as the "most revered" of all records.
There is even much talk about whether he deserves to be in the Hall of Fame.
His record, however, is just a number, just like any other record.
Barry Bonds happens to be the guy who hit more home runs than anyone else. Period. (Until someone else hits more.)
Sometimes records are held by nice guys (e.g., Henry Aaron or Cal Ripken), and sometimes they are held by jerks (e.g., Pete Rose or Ty Cobb.) A record doesn't even mean you were the best at what you did, because there is a lot of luck involved. Pete Rose (who scored more runs and made more hits than anyone else) was definitely not the greatest player who ever lived. Even Bonds, who was vastly more talented than Rose, had much luck on his side: He played a lot of years in an era when home runs were relatively easy to come by for a variety of reasons.
Bonds also played during an era when steroid use was common — and for most of his career, it was legal. It wasn't just a few sluggers who used the stuff: Many of the pitchers who threw to him and many of the fielders who tried to catch his batted balls were also users. Like all ballplayers, he was a child of his times.
Complaining that Bonds' record is invalid because of steroids makes about as much sense as complaining that Babe Ruth's record was invalid because he played during the era when the major leagues were all-white. (Ruth, by the way, played many off-season exhibition games against black players, and if you added the home runs he hit in those games, you would have a much higher total than his official 714.)
As for the Hall of Fame, it's basically just an exhibit in a museum in upstate New York. If a committee of baseball writers votes a player into the hall, he gets a plaque on a wall. Bonds will be just as famous (and just as infamous) with or without a plaque in that exhibit.
This controversy is probably not going to go away for many years. Bonds, for whatever reason, was a player who attracted hostility from commentators even back when he had only hit a few dozen home runs. And the steroids thing will go on for years: Even when his turn to be elected (or not) to the Hall of Fame comes around in 2013 or so, Alex Rodriguez (of the hated Yankees) will probably be about to break Bonds' record.
At least, in this case, we do know that Bonds truly did hit the most home runs. It's not like the last two presidential elections, where we don't know who actually got the most votes.
The writer is a resident of Durham.
---
---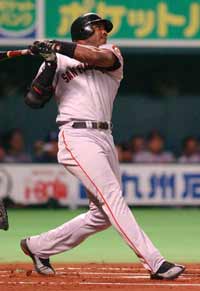 Barry Bonds swinging the bat (photo courtesy of Agência Brasil, a public Brazilian news agency, under the Creative Commons License Attribution 2.5 Brazil )
---
See Also:
---
---