---
Here is a press release I wrote for my local DFA group:

Democracy for America
Rockingham/Strafford Chapter
Re: DFA / UNH College Democrats Candidates' Forum in Durham, NH
Memorial Union Building, Strafford Room, UNH
February 4, 2006; 1-4 PM
Contact:
Timothy Horrigan, Publicity Chair
email: Timothy.Horrigan@alumni.usc.edu
phone: (603) 868-3342
---
FEBRUARY 2, 2006, Durham, NH:
The Rockingham/Strafford chapter of Democracy for America (DFA) and the University of New Hampshire College Democrats will co-sponsor a candidates' forum on Saturday, February 4, 2006 (or "Super Saturday.") The forum will take place in the Strafford Room of the Memorial Union Building from 1 to 4 PM, for candidates from New Hampshire's First Congressional District for the U.S. House of Representatives.
Four Democratic candidates— Gary Dodds, Peter Duffy, Carol Shea-Porter and Peter Sullivan— have confirmed their participation in the forum, along with Libertarian Dan Belforti. An additional Democratic candidate, Jim Craig, has also been invited. Portsmouth activist Peter Somssich will moderate.
This forum comes at a crucial moment, since it follows the Alito Supreme Court nomination, the 2006 State of the Union speech, and the shocking revelations about the the Bush Administration's abuse of power. Tough questions are sure to be asked at this forum— and answered.
The public is invited to meet the candidates and take part in a question and answer session, following introductory remarks and a round of questions prepared by Rockingham/Strafford DFA.
The Memorial Union Building is located at 83 Main Street in Durham. Public parking will be available in lot C (off Mill Road, across from the shopping center.) Parking for handicapped individuals is available on the Circle between the MUB and Holloway Commons.
The event is free and open to the public. The press is invited to pick up a list of prepared questions from the moderator before the event gets under-way.
This is the first local Congressional candidate forum of the 2006 election cycle. The New Hampshire primary election is scheduled for Tuesday, September 12, with the general election following on Tuesday, November 7.
---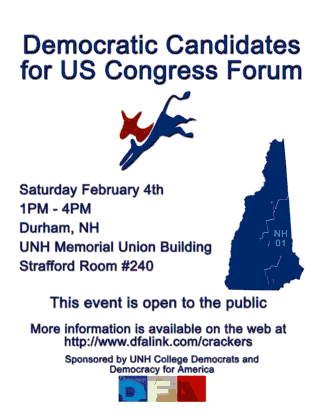 ---
2006 NH 1st CD Candidates:
---
More Info:
---