My "Suspicious About Timing" Letter
By Timothy Horrigan © 2006
Original letter published in The Boston GlobeAugust 20, 2006; this commentary written August 23, 2006.
On Tuesday, August 15, 2006, an antiwar candidate, Ned Lamont, scored a rather stunning victory in the Connecticut Senatorial Primary over one of the pillars of the Democratic Party establishment, Joe Lieberman, who is now running as a third-part candidiate in the General Election. Even though he was the party's Vice Presidential candidate in 2000, and if it wasn't for Jeb Bush's election fraud, he presumably would be the sitting Vice President. (The Vice Presidential campaign was arguably the start of the chain of events which led to his defeat. During the election itself, he drove away a few liberal and libertarian voters who were opposed to his conservative views on certain social and geopolitical issues. And since then, he had taken the Bush Administration's side on a number of occasions, most infamously by becoming the last prominent. Democrat who still supports the war in Iraq.)
The Connecticut primary wasn't just about the war: Lieberman had other liabilities as a candidate in the Democratic primary. And, the turnout was fairly low. Lamont and Lieberman combined for a little more than 280,000 votes; about 1.3 million votes were cast in Lieberman's 2000 Senatorial race (which he won by a landslide.) But the 2006 primary race was neverheless in large part a referendum on the war: and the war lost.
The next day, there were lurid reports of what would have been the biggest terrorist plots in history. I wrote a letter about this to the Boston Globe, which appeared on Sunday, August 20 as one of several letters grouped under the rubric "The Connecticut Connection." My letter was headlined "Suspicious about timing."
Original URL (payment and/or registration may be needed; link also is likely to become broken someday):
---
The Connecticut connection
August 20, 2006
Suspicious about timing
The timing of the latest terrorism scare seems too good (or too bad) to be true. On Tuesday, Aug. 8, an anti war challenger, Ned Lamont, defeats a pro war incumbent, Joe Lieberman, in the Connecticut Democratic Primary. The next day, Vice President Cheney sneers that Lamont's victory was a victory for the "Al Qaeda types." Wednesday night, we are suddenly greeted by a lurid tale of the biggest terrorist plot in history.
Then we also saw the abrupt imposition of the biggest indignity yet on the traveling public: The new rules prohibiting air travelers from taking any liquids of any sort on board, not even water. The rules were imposed in the most humiliating way possible, in order to make all of us feel helpless. In a scene reminiscent of something from Nazi Germany, law-abiding travelers who showed no signs of being potential terrorists had their toothpaste and bottled water seized without warning and without any compensation.
TIMOTHY HORRIGAN
Durham, N.H.
---
See also:
---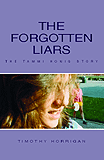 The Forgotten Liars by Timothy Horrigan