Jenna Bush's Wedding Day: May 10, 2008 (and more recent events)
Copyright © 2008-2012 Timothy Horrigan
[April 14, 2013] Jenna has given birth. Margaret Laura Bush was born on Saturday night, April 13, 2013 at 8:43 pm, in New York City. She has already acquired a nickname: "Mila." See:
---
[December 12, 2012] Jenna is pregnant. She and Henry Hager have been living in New York for a while: she is still working for the NBC Today Show (which is where she made the official announcement) and he is working for KKR (an investment firm formerly known as Kohlberg, Kravis & Roberts.)


---
[July 28-August 2, 2010] If you are looking for info on Chelsea Clinton's wedding, I moved it to another page. There is plenty of info, it just is on another page. You can find that page at:
There is no news at the moment about the "other" Twin Barbara's love life, but if just in case there ever is, you can log onto:

Those of you looking for info on Jenna Bush can rest assured that most of the content on this page is indeed about her wedding. Please keep reading...
---
[August 30, 2009]
Jenna Bush now has a new job, as a correspondent on the NBC Today Show. You can read more on my main Bush Twins page, whose URL is:
---
[July 21-23, 2009]
On the afternoon of July 20, 2009, my website started getting about 10,000 extra visitors per day, almost all of them landing on this page which you are reading. The surge of hits continued on July 21 and then abruptly subsided on July 22. For some reason, I got 23,874 hits (according to Google Analytics) from Yahoo!
on the keyphrase "Jenna Bush's Wedding." My other search engine traffic was normal (insofar as you can ever describe search engine traffic as "normal") aside from a slightly excessive number of Google hits on the phrase "Bob Ducharme Ex-Husbands." (Bob Ducharme, by the way, has only been married once: the "Ex-Husbands" were a band he was in back in the early 1980s.)
The sudden upsurge in hits didn't seem to be caused by the July 20 announcement that Jenna is chairing the new Unicef Next Generation Steering Committee, whose motto is "Be a her0 for zer0!". (Barbara Bush is also a member of this group.) It didn't even seem to be connected to Ronald Kessler's fairly sensational book entitled: In the President's Secret Service: Behind the Scenes with Agents in the Line of Fire and the Presidents They Protect
which dealt extensively with Jenna & Barbara's antics while serving as First Daughters. The revelations about the Twins in the book were not too shocking: they were spirited young women who sometimes rebelled against being followed around by cops all the time.
See Also:
Ironically, Jenna & Barbara were actually trying to make news on July 22, but they did so without causing any extra traffic on my web site. Jenna appeared on Good Morning America on Wednesday July 22 for a mutually obsequious "softball" interview with Diane Sawyer. Sawyer stuck to the subject of the interview, which was UNICEF, although she did ask at the end about Jenna's parents. W. and Laura are not under arrest: they are living in Texas and enjoying life. The URL for the GMA segment (warning: the video will have ads attached to it —and it may vanish at any moment) is:
The next day, UNICEF issued a press release about Jenna's work and about her fundraising efforts:
---
[January 20, 2009]
I am not sure why I am bothering to keep this page up. Jenna Bush was not very relevant when her father was President and she is even less relevant now. But there is some interest in her wedding anyway. And I seem to have become the definitive source for info on her wedding even though if you look at the rest of my web site (which very few of you will bother to do) you will see how ironic that is. I do still have another Bush Twins page, by the way, which leads to a few other relevant pages which are still up and running: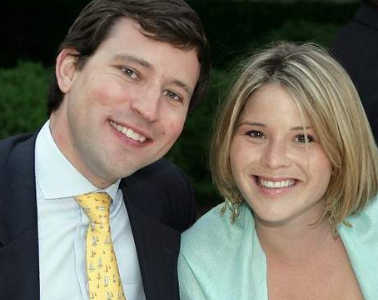 Jenna Bush's Wedding Day: May 10, 2008
Copyright © 2008-2009 Timothy Horrigan
Jenna Bush's wedding day came at a time when Emperor Bush's subjects were short of bread (in every sense of the word "bread") and she refused to put on a circus (although the security precautions— and the wedding itself— were highly expensive.) The groom is one Henry Chase Hager, who seems like a decent enough fellow, even if he does use too much hairspray and even if he did work for Karl Rove for a long time.
Jenna is ostensibly a deeply private person: however, before and after the wedding she crisscrossed the country promoting her own book Ana's Story: A Journey of Hope
and a picture book she co-wrote with her mother the First Lady, Read All About It!
It was a wedding of the sort which liberal couples often put on: strenuously casual, held at an gratuitously inconvenient venue (the President's ranch is in a remote area of South Central Texas and the Jenna in fact actually grew up in Austin), and it was be linked to irrelevant causes (in this case, wildflowers and literacy) which are supposed to be of special significance to the couple.
The literacy may seem ironic because Bush II is a man of limited book learnin'- but the bride and her mother are both elementary reading teachers.
The wildflowers were the theme of the wedding. Apparently, Laura Bush kept herself busy all these years by planting wildflowers on the ranch in Crawford. The dresses for the "house party" (i..e., what folks in the other 49 states would refer to as the "bridesmaids") are also wildflower-colored. (In Texas, the "bridesmaid" is what non-Texans would refer to by the term "maid of honor." Jenna's bridesmaid was the other twin, Barbara.) The designer Lela Rose released the following sketch of some of the house party dresses:
So, if you are looking for photos of Jenna Bush's bridesmaids' dresses, they do not exist. Well, the photos undoubtedly exist somewhere in the archives, but they haven't been declassified yet. Happily, there are plenty of declassified photos of Jenna's white embroidered organza wedding gown with matte beading by Oscar de la Renta:
The ceremony was held beside the pond at the Bush family ranch, which has since been put up for sale. The officiant was a longtime Bush family friend, Rev. Kirbyjon H. Caldwell of the Windsor Village United Methodist Church in Houston- who ironically is a Barack Obama supporter. The father-daughter dance at the reception was the old Joe Cocker song "You Are So Beautiful" performed by the Tyrone Smith Revue. The couples first dance was Taj Mahal's "Lovin' in My Baby's Eyes. " ("Tyrone "Super T" Smith heads a wedding band with a 70s funk and blues flavor to it.)
The weather was fine in Crawford, even though there were severe thunderstorms not far away in the Temple area (which is where most of the guests are staying.) The ceremony was performed in front of a limestone altar with a attached three-ton cross which Bush II designed himself. No word on whether he and Vice President Cheney would be using it for any ceremonials of a somewhat more esoteric nature at some point in the future. The reception was held under tents set up for the occasion.
---
The guests were bussed in from an undisclosed location:
Actually, it was not undisclosed. The rehearsal dinner actually and other pre-wedding day celebrations actually took place over 50 miles away in the pre-Civil War town of Salado,Texas at the Stagecoach Inn:
Here are my favorites from the released pictures.
These are all official White House photos (although I tweaked the color settings, etc.) There are unlikely to be any unofficial photos because all cellphones and cameras were confiscated before the guests were allowed to go to the events. The guests were family and friends: the highest ranking politicians (aside from the two President George Bushes) were Jenna's Uncle Jeb and Henry's mentor Karl Rove. The officiant at the lakeside ceremony (held in front of a spooky limestone cross) was a minister from Houston named Pastor Kirbyjon Caldwell, who is an old family friend.

The bride in her Oscar de la Renta wedding gown. The pre-wedding news reports invariably described the gown as "highly structured." It doesn't seem all that structured to me, although I am sure the undergarments were elaborate. A lovely gown for a lovely bride. (Hey! It's not her fault her father is the worst President in American history.)

No caption needed. You know who these people are.

The point of no return.

The Bush Family

The newlyweds and their parents.

The sun sets on the Bush Regime, but it rises for the couple's life together.

Cutting the cake which is leaning slightly to the right (or is it to the left? It is leaning to the bride and groom's left.)
And, here is a photo which has surfaced from the preparations for the wedding:
---
---
Although the liberal media like to paint young Republicans as stodgy and unfashionable. Henry and Jenna are way more hip than that boring old Chelsea Clinton— as proven by this next picture.
Here is Sir Henry in Boston with his ex-boss Karl Rove and other friends. The red Speedos represent the fact that the Republicans aren't counting any state as being irredeembaly "Blue"— not even the Bluest of all states, Massachusetts.

Henry Hager, Karl Rove & friends in Boston; December 2007. Even though they are wearing Speedos outdoors in the winter, that does not mean they believe in Global Warming!
---
---
[July 31, 2010] Another Presidential Daughter Gets Married!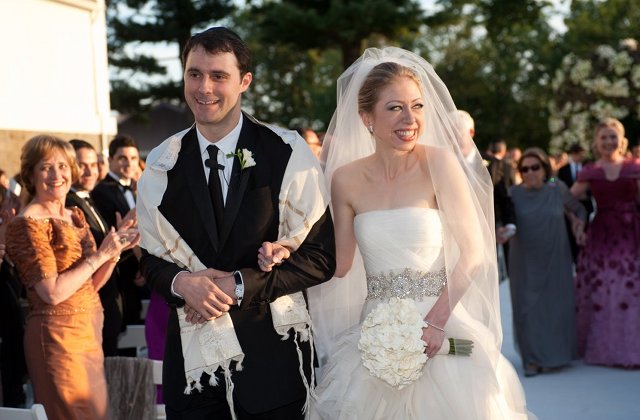 I moved all the stuff about Chelsea Clinton's marriage to Marc Mezvinsky to another page: You can find that page at:
I am about to make a political comment about the Clinton wedding here but all the other Chelsea-related content is on the page I just gave you half-a dozen links to, i.e.:
My comment is: Chelsea showed a certain amount of disregard for marriage equality by getting married in a state which does not yet allow same-sex marriage. Somewhat ironically, Jenna Bush (and her mother) actually endorsed same-sex marriage in May 2008 on the Ellen DeGeneres show. The Bushes are actually ahead of the Clintons on this issue:
If you are wondering about the relative cost of the two weddings: no one knows for sure. The Bush-Hager wedding cost the families about $100,000 but that doesn't include the huge cost of locking down several counties in east-central Texas for three days. However, those security costs were mostly incurred because a sitting President (the bride's father) and a sitting Secretary of State (Condoleeza Rice, who was a family friend) were in attendance, along with other family members and dignitaries.
The Clinton-Mezvinsky wedding cost the families an estimated $2,000,000, or more: this was a bigger wedding and this bride used a rented venue. The taxpayers shelled out some bucks for security on July 31, 2010, but less than in May 2008. The mother of the bride was a sitting Secretary of State (as well as an ex-First Lady.) The father of the bride was an ex-President, but an ex-President's security cocoon is much smaller than a sitting President's. President Obama and the First Lady did not come to the wedding.
---
See also:
---