2012 Lesser Known Presidential Candidates Forum
New Hampshire Institute of Politics, Manchester, NH
December 19, 2011
additional commentary by Timothy Horrigan; December 29, 2011
Every Presidential election cycle, a few weeks before the New Hampshire Primary, the New Hampshire Institute of Politics (which is part of Saint Anselm College) holds a "Lesser Known Presidential Candidates" forum. The 2012 forum was held on December 19, 2011, in advance of the January 10, 2012 primary.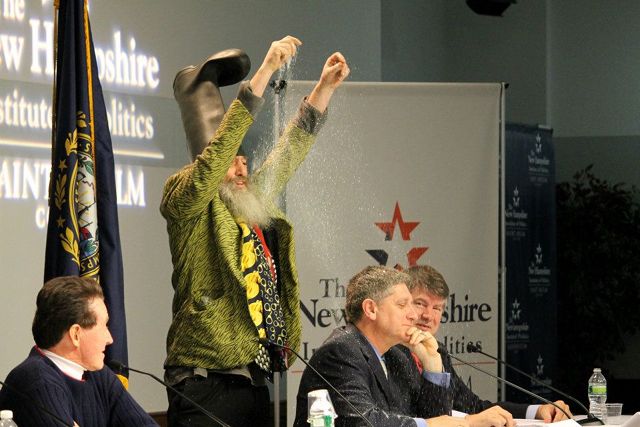 The highlight of the event was when Vermin Supreme glitter-bombed anti-choice extremist Randall Terry:
But that was just one moment in a wide-ranging two-hour event.
The December 19, 2011 forum was co-sponsored by CSPAN, but they did not air it till sometime after the January 3, 2011 Iowa caucuses. I didn't see it till Friday, January 6, 2011, but I think CSPAN also ran the program earlier that week.

http://www.c-spanvideo.org/program/303284-1
---
There are a number of other videos of various quality available, including this complete set of high-quality YouTube videos uploaded by the Queen City Examiner:
---
Some Candidate Pages:
See Also:
---
---