My July 5, 2011 Letter to the Editor: "Missing Trees"
additional commentary by Timothy Horrigan; July 5, 2011
Original URL (may be hidden behind paywall):
or:
Missing trees
Rep. Timothy Horrigan, Durham
Created 07/05/2011 - 00:00
I drive to Concord on Route 4 about 150 days or so a year, passing through Chichester on the way. Until recently, one of the landmarks on my commute was a large abandoned farmhouse at Route 4 and Main Street. The house was falling down but its landscaping was in reasonably good shape.
A group called "Signs 4 Jesus" bought the property this past winter and tore down the house, planning to put up a billboard which will flash Bible verses at passing motorists. A few days ago, the new owners cut down several mature trees and tore out all the other landscaping, to create an unobstructed view of the billboard. I humbly suggest that God was honored more by the trees than by the billboard.
REP. TIMOTHY HORRIGAN
Durham
I actually made a minor factual error in this letter: one small tree is still standing. That tree is on the other side of a stone wall, so maybe it was saved merely because it is on public land.
The intersection of Route 4 and Main Street/Horse Corner Road happens to be the last red light before Concord and it is also just upstream from where two westbound lanes merge into one, so it is a choke point. This spot is also not too far from New Hampshire Motor Speedway, so there will be plenty of extra slow-moving traffic past that point on race weekends.
This project is the brain child of one Fab Cusson, who is understandably grateful to Jesus for helping him break an addiction to OxyContin and methadone.
Jesus evidently takes a special interest in Mr. Cusson's real estate transactions: he led Mr. Cusson family to a lakefront property in Barnstead, and when Mr Cusson discovered that he couldn't swing the deal for the lakeside land without first selling his family's current house, Jesus sent not one but two eager buyers. The second buyer was able to close on the property right away. Jesus was also instrumental in the Route 4 deal. According to Mr. Cusson's blog, Our Saviour intervened to make sure that the financing for a competing buyer's offer for the property at the corner of Dover Road & Main Street fell through.
---
---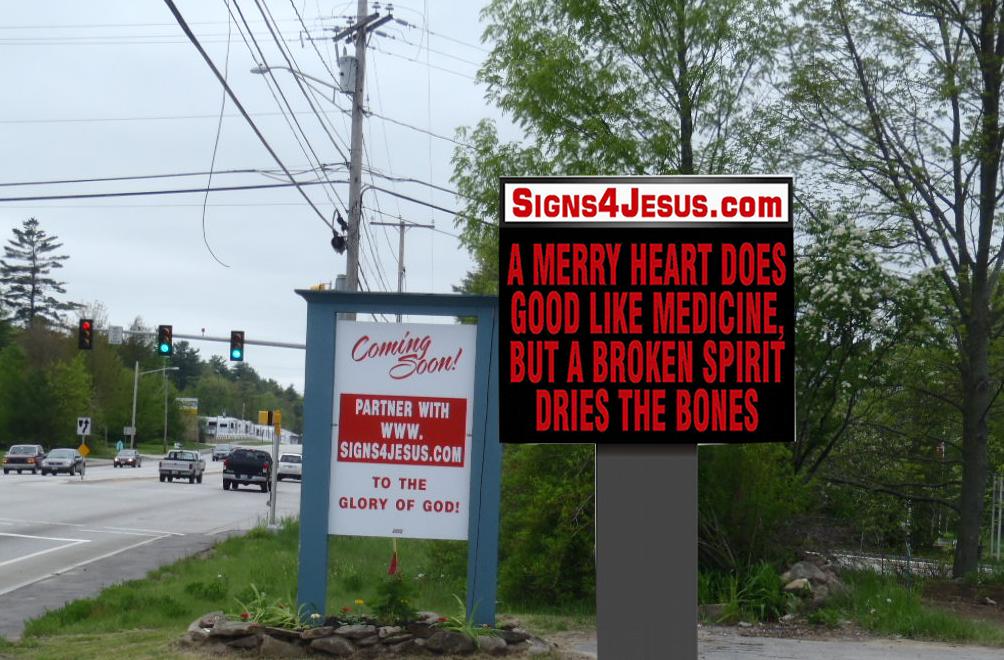 Signs4Jesus location, Route 4 & Main Street, Chichester, NH as of May 2011 (before the trees and shrubs were cut down) showing existing sign and the proposed sign. The proposed sign will be 12 feet high.
---
See Also: