Tim Horrigan's NASCAR Page
Copyright © 2006-2013 Timothy Horrigan
January 26, 2011: This article might now be out of date: Nascar changed the points system for basically the first time since 1973. (I say "basically" because a few minor tweaks were made over the decades.) Also, if qualifying is rained out, starting positions are based on practice speeds. If practice is also rained out, Nascar goes back to the owners' points as in the past.

This rules change was rolled out as a fait accompli about three weeks before the season started.


The new points systems awards 46 points to the winner, 42 to the 2nd-place finisher, on down to 1 point for 43rd place. (There is no provision for more than 43 entrants: when the old system was new, some races had 60 or more entrants, depending on the length of the track.) Everyone who leads a lap gets 1 bonus point, with a 2nd bonus point to the car with the most laps led: the maximum number of points you can win is 48.

We shall see how this changes the action on the track: my first observation is that I foresee that leading laps will be even more important than it has been. I also think that the new system will lead to a lot of more jockeying for position at the rear of the pack. The difference between 43rd and 20th used to be 34 points versus 103 points (about 3-fold), whereas now it will be 1 point versus 23 points.

See Also:
I guess I qualify as a Nascar fan, even if I am an effete Northeastern liberal. I am also very peripherally involved in the sport as an active participant. For the past several years, I have been working on race weekends at New Hampshire Motor Speedway in Loudon, NH. My first event was the Fall 2001 race, which was moved from the weekend after 9/11 to the Friday after Thanksgiving. From 2002 to 2007, I worked at Unit 61 (not to be confused with Area 51), an NHIS souvenir tent near the end of the main grandstand. In 2008, under the new ownership, I worked as a "runner" instead, bringing stuff back and forth from the units. I have missed the 2009 and 2010 season, aside from several visits as a guest.

There probably are thousands of Nascar-related web sites out there, so there might not be much I need to add.
Three of my favorite Nascar-related web sites are:
I suppose I should also mention my employer's, Speedway Motorsports, Inc.'s web site, even though it is all routine corporate information (although it does link to the various SMI tracks' sites, which are interesting):
I am working on an epic poem entitled Loudon Blues which is partially about racing and which was named after the racetrack. Click here to read a few excerpts.
I hope to add more content as the Nascar season progresses. For now, here's what I got....
My brief Loudon guide (see below)
---
My Brief Loudon Guide


Here are a few (hopefully) helpful pieces of info about New Hampshire Motor [formerly International] Speedway. I worked there (in the souvenir department) from 201 till 2008.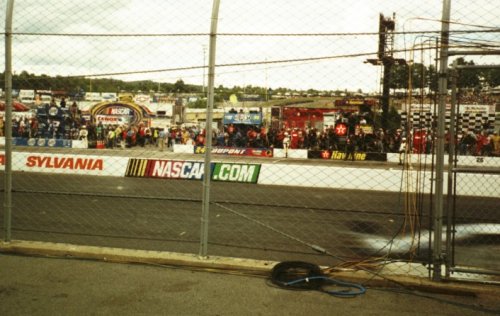 All remarks are strictly my own personal opinion.
After the 2007 season Bob Bahre, the legendary founder of the track, sold the facility to one of the giants of the race track industry, Speedway Motorsports Inc., bought the track for the (pretty big) sum of $340 million.
Bob Bahre is a wonderful, down to earth fellow. The first time I met him, he was walking out of a restroom with a clear plastic bag of garbage in his hand (presumably this bag was the liner of the loo's trash can.) Even though he is a multimillionaire, he still helps take out the trash.
Immediately after the sale, only one change was announced: the track was renamed "New Hampshire Motor Speedway" to fit in with SMI's other oval tracks which are all named "[Whatever] Motor Speedway." When I first visited the renamed NHMS in June 2008 the place did not look much different. SMI put up new signs, repaved the access roads (and the track itself), and built some new skyboxes. Many changes gave followed. And even more changes are on the way.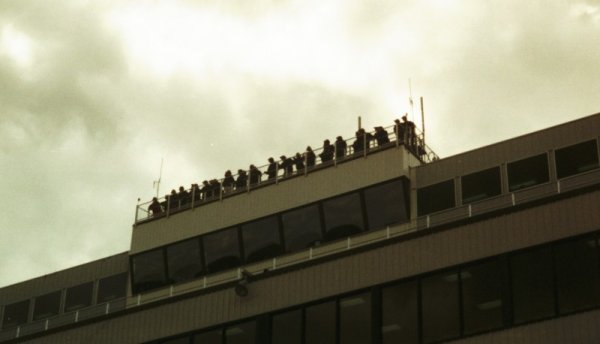 When and Where

Traditionally, there are two Nascar weekends per year at Loudon, one in June or July (generically known as the New England 300, currently sponsored by Lenox/Irwin Industrial Tools, which is a division of the same conglomerate which makes Rubbermaid and Sharpie products.) and one in mid-September (generically known as the New Hampshire 300, currently sponsored by Sylvania.)

The July race in recent years marked the beginning of the second half of the season, being the the 19th of 36 points races, taking place on the second or third Sunday after the Fourth of July. In 2007, the race was moved up to the Sunday before July Fourth, i.e., July 1, 2007. This made it the 17th points race of the season, i.e., the beginning of the so-called 10-race "Race to the Chase" series. The schedule change was fortunate since there is now an August Busch Series race in Montréal, which is not far from Loudon. The interval leaves a little extra time for Quebecois fans (who are très fanatical) to rest up between events and save up a few more loonies and twonies to buy more hats and T-shirts.

The September race weekend coincides with the onset of the "leaf peeping" season in northern New England and also in Quebec: a detour to the north before or after the race is highly recommended!

Next year's Sprint Cup events will be:
The Lenox Industrial Tools 301 (Sunday, July 4, 2013)

The Sylvania 300 (Sunday, September 22, 2013)
My record as a state legislator has been mixed vis a vis NHMS's agenda. I actively agitated in fabor of a bill in 2009 which fixed a problem with their liquor license. And I supported a package of road improvements which includes widening Route 106. I am also in favor of lowering property taxes, which are way too high. (The track pays $750,000 or more just in property tax.) But I voted to raise the rooms and meals tax, and more seriously I worked hard in 2010 to help kill several (only slightly) different casino bills.
To tell you the truth, SMI jumped in late and played a small role in the 2010 lobbying effort, even though they were in fact the only one of the three or four prospective casino operators who could be relied on to actually build the casino right away. If we had passed the bill, SMI could have— and probably would have— started building the Loudon casino the next day. Loudon's casino was a shovel ready project. The other guys would have needed outside funding and other resources before they could get started. NHMS and SMI never pressured me at all for my vote.
See (or more accurately listen) to:
See Also:
Loudon is a rural community in central New Hampshire, about 8 miles north of the state capital of Concord, and 15 miles south of Laconia. The official PR materials say that the track is an hour north of Boston. You would have to drive like Kurt Busch to make the trip in an hour, but Boston is not very far away. Fans come from all six New England states, Quebec, Atlantic Canada, Upstate New York, and even from the New York City area.
The track is located on Route 106, which roughly parallels Interstate 93. The street address of the track is: 1122 Route 106 North; Loudon, NH 03307. On race days, traffic is very heavy on Route 106, and also on the main east-west highways leading to and from Concord (Route 4 and Route 9.) Getting out after the race is much harder than getting in before the race, but generally speaking the traffic plan works pretty well at both ends of the event. The post-race traffic is mostly heading south, so if you go in some other direction you can avoid most of the insanity. There is a major natural barrier to the west, the Merrimack River, and there are few if any alternate routes to the south, but there are plenty of little roads heading north and east. The hard part of the trip south is getting to I-93. Just north of Manchester, there is a toll booth (which now takes E-ZPass) and a fork in the road. The 3-digit alternative, I-293 (which eventually becomes US 3) is actually a more direct route than I-93 proper to most points south.
On Sundays, unless you're driving a shuttle bus or an emergency vehicle, you cannot drive past the track: after the race, Route 106 will be one way south to the south of track and one way north to the north.
Parking is bundled with the tickets and there are some off-track lots which charge about $20/day. The new owners have been putting a lot of work into improving the on-site parking lots. There are free shuttle busses which run up and down Route 106. You can also park in Concord and take a pay shuttle bus.
The only motel in Loudon proper is a Red Roof Inn on Route 106. Laconia and Concord have a full assortment of hotels and motels, including the ubiquitous chains. Manchester has an even wider assortment. There are many other towns with places you could stay. Fans stay as far away as Portsmouth, which is about 40 miles east of the track. The closest airport is Manchester-Boston Regional Airport; the closest train station is the Durham/UNH station which is four blocks blocks from my house. (I have no extra room, but there are two excellent hotels in town.)
Tickets
The Sunday Nextel Cup events are usually sold out, although oftentimes the track does find that it has a few tickets to sell. In the springs of 2007, 2008 and 2009, the track bought lots of regional TV and radio time. This is not exactly unusual, except that the ads were hawking Sunday Cup tickets, not just Friday and Saturday undercard tickets. The same thing happened in June, 2010, only this time the track ended up about a third empty. That is not unique to Loudon: even Indianapolis was only half full for the 2010 Brickyard 400.
You can find out out about ticket availability by logging onto the track's web site: http://www.NHMS.com/
There are always tickets available on a walkup basis for the Thursday through Saturday programs, although the best seats do sell out far in advance.
"Scalping" tickets is perfectly legal in New Hampshire, though the track still tries to discourage such activity. You will, as you would expect, find quite a few ticket dealers camped out on Route 106 (and even Routes 4 and 28) on race day, though not on the race track property itself.
The tickets don't become physically available until a few weeks before the event, so anyone offering advance tickets on eBay and most other internet sites is (most likely) selling tickets which they don't actually have physical possession of yet. Caveat emptor. (But: Go ahead and click here to check out the deals on eBay!)
The Track Itself
The track is a paperclip-shaped 1.058-mile oval (hence the nickname "Magic Mile".) The Nextel Cup races are traditionally scheduled for 300 laps, which is 317.4 miles. (There is also a road course, which uses the frontstretch, Turns 1 & 2, and part of the backstretch of the Nascar track, while also looping through the infield and up the grassy knoll behind the backstretch.)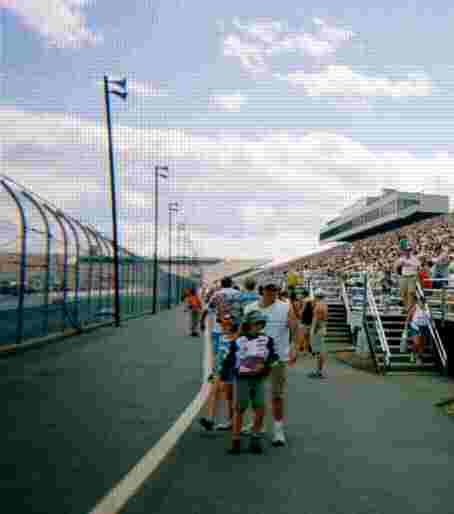 There is one long grandstand (the Loudon Grandstand, now usually known simply as the Main Grandstand) extending the length of the frontstretch, and smaller grandstands wrapping around Turns 1 and 2 (the Concord Grandstand) and Turns 3 and 4 (The Laconia Grandstand.) There is also a grassy knoll on the backstretch where fans can stand and watch the race. Track workers sometimes jokingly refer to the grassy knoll as the "Pittsfield Grandstand" (after another neighboring town.) There are no lights: there are various legends as to why there aren't any.
Visibility is outstanding: fans have a great view of the pits and garage area, as well as of the far side of the track. The grandstands are unshaded. The seats are, in most cases, long aluminum benches, although newer and less uncomfortable benches were installed recently: butt pads are still a good investment. The simple seating aside, the amenities are outstanding: the staff are friendly and there are plenty of restrooms and concession stands. You can bring limited quantities of beer onto the track property, but no alcohol is for sale — except at two or three small concession stands. (I worked on a bill, SB 190, which created a special liquor license to make sure the track to continue its existing practices. It was unclear if the practices were legal before that. It's a long story.)
Now that Winston is no longer a Nascar sponsor, no tobacco is available either. Smoking is still tolerated. (Back in the day, Winston used to give away free cigarettes. But, under the new regime, Sprint/Nextel does not give away free cellphones! Oh well... They will occasionally give away free phone cards and other goodies.)
This used to be a "one-groove" track where it was difficult to pass, but the racing has been getting better every year as they tweak the surface, the banking, etc. It's a challenging track because the turns are very tight while the straightaways are very long, so it combines the most difficult features of a short track and a superspeedway.
\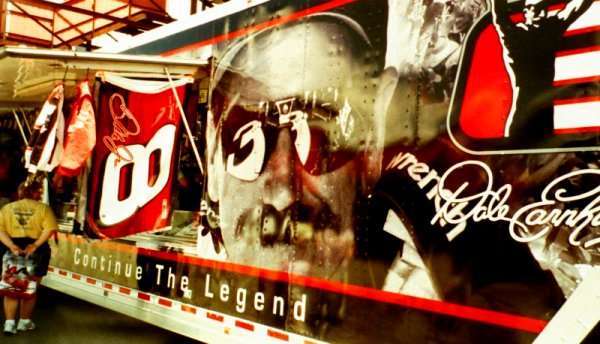 Dale Jr. & Dale Sr.'s joint souvenir truck; Loudon 2007
Who Loves Ya?
The same as everywhere else, the most popular driver at Loudon is Dale Earnhardt, Sr.
Dale Jr. is the most popular living driver at Loudon, even though he usually struggles here. He is especially popular with Quebecois fans. Jimmie Johnson and Jeff Gordon have huge followings.
Jimmie swept the Loudon series in 2003, and Jeff has won 3 races here. The "Other Jeff,"Jeff Burton is the all-time Cup wins leader with 4 victories, including a bizarre race in 2000 where he led all 300 laps. He has won 5 Loudon races in all counting his Summer 1992 Busch Series win.
Racers with Northern New England roots (e.g., Ricky Craven and Martin Truex) always get a warm reception at Loudon. Quebec's Patrick Carpentier created a lot of excitement in 2008 when he won the pole for the Lenox 301. Carpentier drove lentement in the race itself and finished 31st, two laps down. Quelle dommage. In 2009, Middletown, Connecticut's Joey Logano won the Summer Loudon race at the age of 19 years old: he was the youngest winner in Cup history.
The most vigorously reviled villain used to be Kurt Busch, who swept both Loudon races in his championship year of 2004. But, his star has faded.

Tony Stewart also used to be widely hated, but since his 2005 championship he has become much more popular. Stewart holds a Loudon record which will be unbeatable until the Indy Cars return. He has won races in two different major-league series: he won the summer 2000 and summer 2005 Cup races as well as the summer 1998 Indy Racing League event. (He also won the summer 2008 Nationwide Series race.)
This page does not get a huge number of hits, but a large percentage of those hits are from people Googling phrases like "NHIS+hospitality+tents". I don't know a whole lot about these tents, even though I have spent many long hours within sight of them: I worked for seven seasons at a souvenir stand behind the main grandstand, and the tents are on the other side of a chain link fence. I will say that the main hospitality tent area is in between Route 106 and the track proper. You do, I believe, need a separate pass for the Hospitality area, as well as a ticket for a specific tent. Those items are normally only supposed to be given out along with a race ticket, although people do buy and sell their hospitality passes separately. (Naughty, naughty!) You need a contact with a corporate sponsor to get a hospitality tent pass. Once you get inside the tent there is the usual free food, drink, music, schwag, etc. to be snarfed up.
On a more rarefied level, there is a complex of luxury suites on top of the main grandstand. This is one of the places where the drivers and other celebrities hang out when they're not working. It's virtually impossible to get up there unless you are extremely well-connected. It is far from impossible, however, to get a pass for the infield, where you can get a closeup look at the garages. However, in my own case, I worked 16 events at the track before I had occasion to go to the infield (and then to get there I had to drive a golf cart through 18 inches of rather dubious-looking standing water after a post-race thunderstorm. And I also nearly got run over by J.J. Yeley's hauler.)
The best freebies used to be the colorful MBNA T-shirts, available if you applied for an MBNA Racing Rewards credit card. I have about a dozen of them myself. Sadly, MBNA no longer exists. Well, actually, I don't mind that they don't exist: I just miss their schwag. There is a large "fan fair" area just outside the track's perimeter, near Turns 1 & 2, which gets better with each event. SMI also built a million-dollar bathhouse near the fan fair, which is a massive convenience for the tens of thousands of RVers in the crowd .
The best place to see drivers and other celebrities for free is the SpeedTV studio. Also, if you arrive early on Sunday morning, there are always several Cup drivers signing autographs at their souvenir haulers before the main event (especially now that Speedway Motorsports is running the show: the vast majority of those haulers are affiliated with SMI Properties.) Sometimes you even see pit crew members signing autographs. The drivers also like to sign autographs on Saturday mornings. The driver who turns up the most frequently in the concession area is Michael Waltrip, who owns and manages his own team and who keeps a close eye on his company's souvenir sales. I once even saw him there once when the race was still going on: he had DNFed early.
---
Useful Links
---
---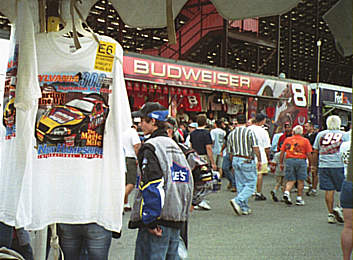 ---
---
---
---