The Heart Beats: an Extremely Unofficial Fan Page
commentary by Timothy Horrigan; April 23, 2012
See:
Back in the 1960s, Linda and Debbie Sanders lived out a dream which many kids their age (me included) merely dreamed. They started a rock band and made a few records. The lineup was:
Linda Sanders (drums, vocals)

Debbie Sanders (guitar)

Jeannie Foster (guitar, vocals, keyboards)

Debbie McMellan (bass) [her last name is shown in various sources as "Miller" and "McMillen" but I am fairly confident that it is in fact "McMellan"]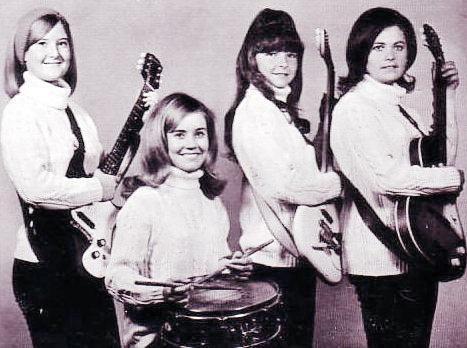 Jeanie Foster, Linda Sanders, Debbie Sanders, Debbie McMellan
The band was a mystery to me, until I found an April 14, 2011 radio interview between Debbie Sanders Rumsey and Landon King of Kool 98 FM (an oldies station in Lubbock.)
They were a typical garage band in many ways, but they stand out because they were all girls, because they were from Buddy Holly's hometown of Lubbock, Texas— and because they were really, really good. The Sanders girl were blessed with a very supportive and very smart mother, who became their manager. Jeanne Sanders was not that old herself: she was in her early 30s at the time, and she sought out the help of some of the same people Buddy Holly worked with. Their best known recording was their debut single "Crying Inside" which was written by Mouse of Mouse & The Traps and which was produced by the legendary Robin Hood Brians.
The Heart Beats came along at just the right time (although their commercial success was limited.) A few years earlier, and it would have been impossible for them to do what they did. A few years later, and they would have been pressured to be overly cute and/or overly sexualized. Although their photos suggest that they were very conscious of their visual presentation, there is nothing self-conscious about their persona. Their mother described them as "in appearance and in reality, a group of decent, wholesome girls."
In August and September 1968, when Debbie Sanders was 12 and the others were 15 or so, the girls won a national garage band contest on the TV show What's Happening (hosted by Mark Lindsay and Paul Revere of Paul Revere & the Raiders.) The prizes included $10,000 in cash (a huge sum of money at the time) and a VW minivan which served as the band's tour bus for many years thereafter. Debbie Sanders said it was like winning American Idol. Mrs. Sanders turned down one prize: she didn't like the terms of the recording contract with ABC Dunhill Records, primarily because she wanted the girls to stay in school.
Linda married very young (in 1970 when she was 17) but her first husband died in a car crash in 1971. She remarried in 1974. But the band stayed together until sometime in the 1980s and were a popular regional band. Jeannie Foster is now a grandmother and still sings.
Linda Haltom and Debbie Rumsey both live in the small community of Smyer, Texas (about 20 miles west of Lubbock.) Their mother died in 2010, at the age of 74. Judging by her obit, she led a remarkable life and is greatly missed. Linda Sanders Haltom says: "It was a wonderful time in my life that I owe all to my mother. She had a dream and she saw it become a reality through us."
---
---
YouTube Videos:
"Cryin' Inside"

Original URL: http://youtu.be/vDmODd5MK9Y
"Time Won't Let Me"

Original URL: http://youtu.be/6wwD0JaSzfQ
"Little Latin Lupe Lu"

Original URL: http://youtu.be/7Ld3JqZ03v8
"Choo Choo Train"

Original URL: http://youtu.be/g9Li17dsW8M
"The Poor Side of Town"

Original URL: http://youtu.be/7-BBjR8Q9H0
---
See Also: