Tammi's iTunes & Regular Tunes

by Tim Horrigan
Music plays a big role in the lives of the characters in my novel The Forgotten Liars, even though (or perhaps because) there were no iPods and no iTunes
in the early 1980s.
There were a few boomboxes back then, and the first Walkmen (or— to use the official plural— Sony Walkmans) appeared in 1980— but basically in order to hear music back then you either had to listen to the radio (which sucked a little less back then than it does now, but still sucked pretty bad), or you had to play records (which sounded great and had expansive cover art but required a lot of specialized equipment) or you had to go out.
My friend Joyce Maynard (whose picture is farther down the page) published a novel back in 1995 called Where Love Goes which was accompanied by a soundtrack album. I thought the album was a very cool idea (even though I confess I only bought the book), and I thought it would be fun to make a soundtrack album for my own novel. And even though hardly anyone looked at the original version of my page (let alone made any purchases) it was fun.
Here are links (about a vinyl album's worth) to the Apple iTunes files for a few of the songs mentioned in my novel The Forgotten Liars. They can all be purchased from the iTunes Store Home Page.
---
There are two rival campus bands in my novel— or three if you count Tammi's band the Blimps (who appear rather fleetingly near the end of this story, although they will re-appear in at least one of my future books.) The Broadway Shakes are a composite of several bands, but they are mostly based on a band called the Casuals. (They were one of many bands by that name. Ironically one of them is a currently popular San Francisco funk quartet led by Marc Capelle, who was a friend of mine at Columbia who was involved in many of the adventures which I mined for fictional gold— or fictional pyrite at least.)
The Significant Others are mainly (though not exclusively) based on a legendary power-pop band called the ExHusbands (often misspelled with a hyphen.) Their lead guitarist, Bob DuCharme, is now a legendary information technology guru and blogger.
---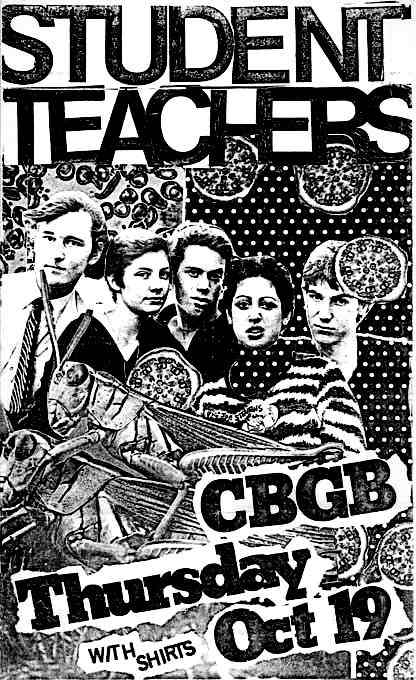 My characters are big fans of most of the major acts of their time. You probably never heard of one of these major acts, the Student Teachers. They actually existed, but their level of commercial success was much more modest in my book's fictional universe than it was on my time line. Two of their recordings can be found on the CD (and digital download)
reissue of the album Marty Thau Presents 2x5.
(This album contains interesting early works by the Fleshtones and Brian Setzer, I should add.) They also also more than held their own with the likes of Television, Richard Hell & the Voidoids and Hall of Famer Patti Smith on the definitive anthology The Great New York Singles
(which is part of the clasic ROIR series, and which goes in and out of print at random intervals.)
The Student Teachers' two hit singles can be downloaded for free from the band's website (although the sound quality is even better if you shell out the bucks for a CD):
Their leader, Philip Shelley, is still an active singer-songwriter, who gigs regularly in Portland, Maine and around New York City. He has a fascinating (albeit rarely updated) Devastionalist Manifesto blog. He and at least two of his old bandmates have MySpace and Facebook pages:
---
---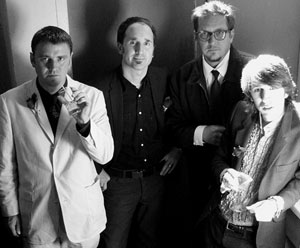 Marc & the Casuals

[from a press release promoting a March 5, 2005 club date]: Marc Capelle's SF/bay area supergroup who play New Orleans and Memphis R&B along with a few classic pop/Bacharach tunes. This predominantly instrumental group has members Cake, The Dwarves, American Music Club, The Loved Ones and Persephone's Bees. This is a rare club appearance by a group of friends who never play this funky in their other bands.

Featuring Marc Capelle, Bart Davenport, Pete Straus, Todd Roper and Xan McCurdy.
See Also:
---
And it turns out, by the way, that:
Marc Capelle and Joyce Maynard have met:
(this is not too surprising: they both get around a lot, they both live in the Bay Area and they are both very friendly people.)

Marc Capelle & Joyce Maynard at the San Francisco Writers Grotto, supposedly on January 1, 2002
---
---
---
---

Visit the Amazon.com iPod Store!
---
---
---