Barbara Bush's (Non-)Wedding Page
Timothy Horrigan © 2010-2013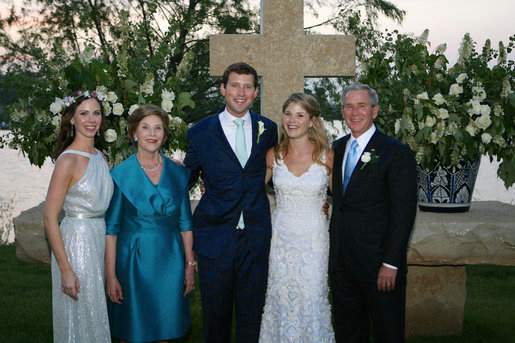 L to R: Barbara, Laura, Henry, Jenna & Dubya



On August 2, 2010, I wasted half a day putting together a Chelsea Clinton wedding page to go with my popular Jenna Bush wedding page. At the time, I thought I may as well get ahead of myself and put one up for another Presidential daughter, Jenna's sister, Barbara "The Other Bush Twin" Bush.
First of all, Barbara is not pregnant (to the best of my knowledge.) Jenna is the one who is pregnant. Although it is perfectly OK to have children without getting married first, Jenna Bush and Henry Hager did indeed get married in May 2008, five years in advance of the expected birth of their first child.
As far as I know, Barbara Bush has no plans to get married. But, every so often, usually in the spring of an odd numbered year, rumors start flying. The rumors typically involve the same person, a college friend from Yale named Jay Blount.
Jay Blount is a square-jawed young dude who ironically works (or used to work) for an organization called "Envirolution" (as a "Powerpint PIMP") which promotes Green Technology and fights Global Warming. Well, maybe it's not so ironic that Barbara is involved with an anti-global warming crusader. Barbara is a Republican (though we are not so sure about Jenna's political affiliation), but she (like Jenna) grew up in an era where global warming is simply a fact of life. For her generation, global warming is not something to be denied: it's just one more problem to deal with and maybe even make some money off of.
Jay has also worked for a management consulting firm called Casey & Quirk, which provides advice to hedge funds, and occasionally publishes white papers with titles like "The Hedge Fund of Tomorrow: Building an Enduring Firm." He seems to no longer be with this company.

The most recent rumors appeared in the Yale Daily News and other sources: she was going to get married in Kennebunkport, Maine in the summer of 2009. No such marriage took place. If she ever does get engaged, I may as well have my page ready to go now. Maybe it might even end up at the top of the search engine results.
Barbara Bush & Jay Blount, with Presidents George & George W. Bush. Oddly, this picture was taken during an even-numbered year, but it was in the spring: March 24, 2008. The location, for some reason, was Dick Cheney's house.
Just before the last set of rumors, in March 2009, a radiant Barbara was photographed on the arm of Patrick McGregor, a handsome executive with the fashion company BCBG Max Azria. I have reason to believe that he is just a friend:
---
[April 14, 2013] Jenna has given birth. Margaret Laura Bush was born on Saturday night, April 13, 2013 at 8:43 pm, in New York City. She has already acquired a nickname: "Mila."
For more info, see:
See Also: