HI, PARIS! LOOKING GOOD, PARIS! WE LUV YA, PARIS!
Copyright © Timothy Horrigan, 2004-2012
There are approximately 2 million pages about Paris Hilton on the web. This is one of them. I am pleasantly surprised to find that it actually does get some hits.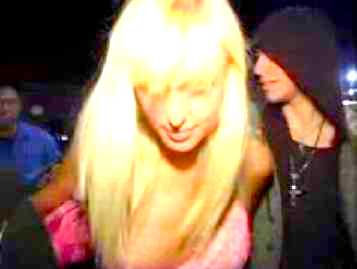 I really don't have anything terribly new to say about her, except that if The Forgotten Liars ever gets made into a movie, there are several roles she might be good for... But check out the rest of my page anyway!
---
PARIS FOR PRESIDENT!
In early August 2008, Paris Hilton announced her candidacy for President. She is not qualified for the job in the conventional sense (aside from being an ex-con with no college education, she was only 27 years old, 8 years short of the minimum age requirement.) But worse candidates have been elected in the past. She would, if nothing else, rank with Obama, Reagan, JFK and Clinton I as one of the best-looking Presidents.
She was inspired by John McCain who ran a strange commercial on August 1, 2008 called "Celeb" which equated Barack Obama with Paris and Britney Spears, asking the question "Is He Ready to Lead?" Paris seems confident in her readiness to lead.
She was born in New York City on February 17, 1981— or so she says. (I have not seen her birth certificate.) She won't be eligible to serve as President until 2016. But I am glad she ran in 2008 anyway, and I hope she runs again in 2012. (However, I still plan to vote for Obama.)
---
---
(Some of) Paris's Legal Problems
Paris has had lots of legal issues over the years, including several drug arrests. She even managed to be arrested once on drug charges in South Africa, of all places. She got in the most trouble for the rather mundane infraction of driving with a suspended license. Things calmed down for Paris a little after her friend Lindsay Lohan took over the role of Hollywoods #1 Top Girl back in 2008 or so, but they haven't totally calmed down.
See also:
June 26, 2007:
PARIS IS OUT OF JAIL



So, Paris Hilton really did have go to jail. Yikes! Even though she is guilty as hell, this is still a little shocking. This also seems more than a little unfair, especially while Bush & Cheney — as well as Lindsay Lohan— are still running free.

She turned herself in after the 2007 MTV Movie Awards. She did an end run around the paparazzi by arranging to be booked at a men's jail in Downtown LA instead of the women's jail in Lynwood where she was actually supposed to do her time. She was scheduled to do 23 days (reduced from 45 for "good behavior") in jail— but three nights later she was released in the middle of the night for unspecified "medical reasons." Or actually she was "reassigned" to house arrest with an electronic monitoring device on her ankle.

However, the judge who sentenced her refused to go along with this, so she was literally dragged screaming back to jail on Friday June 9. It turns out she truly did have medical problems— evidently because she went off some psychiatric meds she had been taking — so she spent the rest of her term in medical wards. Just after the stroke of midnight on Tuesday morning June 26, she was set free, having served her full 23 days. Ironically, if the judge had gone along with the house arrest, she would have had to have been confined 22 days more.
---
More Info..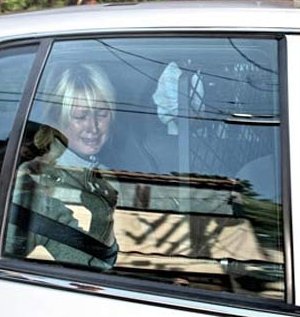 On May 4, 2007, Paris was sentenced to 45 days in jail, for violating parole after a drunk driving conviction. She had to report to the Los Angeles County women's prison on or before Tuesday June 5, 2007. Her sentence was soon magically reduced to 23 days (ostensibly) for "good behavior" — even though she hadn't done anything particularly good (or bad) during the days after her court appearance. (Actually, the sentence was probably reduced because the correctional facility was overcrowded and she was a first-time— and non-violent— offender.) This sounds pretty good compared to her original 45-day sentence— but not so good compared to zero days.
She began serving her sentence a couple of days early, turning herself in on Sunday night, June 3— immediately after attending the 2007 MTV Movie Awards.
She left the jail shortly after midnight three nights later, on Thursday morning, June 7, 2007. She had been "reassigned" to house arrest with an electronic monitoring device, for unspecified "medical reasons". Her sentence was increased to its original 45 day length, but the sheriffs decided that she had served 5 days already because her time in jail had spanned 5 calendar days. The next day, the judge threw her back in jail.
Paris had been stopped several times in recent months for various traffic violations, beginning with a DUI bust on September 6, 2006. Even during the weeks between her trial and her incarceration, she got a parking ticket.
The night of Wednesday September 6, 2006 was not one of the highlights of Paris's career. After a long day where (according to her long-suffering flack, former John Lennon myrmidon Elliot Mintz) she had been shooting a new music video all day without stopping to eat, she was busted near her home for DUI. Supposedly, she had had only one margarita at a party. And she was also supposedly on her way to a local fried food hut for a burger— oddly, not Carls Jr.
She didn't seem all that drunk when the paparazzi briefly photographed her getting out of the car. Reportedly, her blood alcohol level was .08%, just barely over the limit for DUI in California. Eventually, on January 22, 2007, she copped a plea: she pled no contest to alcohol-related reckless driving and was hit with 3 years of probation (reduced to 2 years if she does community service) plus some fines.
But then, a few weeks later on February 27, 2007, the cops stopped her on Sunset Boulevard in West Hollywood for driving at night without her lights on while coming home from buying some DVDs at the local Virgin Megastore. (It is easy to forget to put your headlights in L.A., because the streetlights on the main thoroughfares are much brighter than they need to be — so bright you don't really need your headlights at all.) Her driver's license, it turned out, was suspended (as a result of the DUI incident back in September.) The cops impounded her $200,000 Bentley on the spot and she had to walk home.
Both sides looked silly. Paris was rather lamely claiming that she didn't realize that her license was suspended. And the local law enforcement authorities look stupid because, until she finally got pulled over, they (ostensibly) never knew that she was still driving— even though there are numerous photos and videos of her on the web showing her behind the wheel of various vehicles.
After the February 27, 2007 stop Paris got threatened with jail time. The applicable local authorities (specifically the Los Angeles City Attorney's Office) pressed charges against her for violating probation by driving with a suspended license and also for not attending an alcohol education program. The decision to press charges was issued on April 30, although it didn't become public knowledge till TMZ.com and other media outlets got hold of the public records on May 2 or 3.

One interesting detail in the public record is that she was originally charged with having drugs in her car as well as drunk driving on September 6. (She plea-bargained the charges down to Reckless Driving.) Another interesting detail is that she was stopped on January 15, 2007 (a week before her plea bargain was finalized): her license was already suspended, and she was therefore breaking the law by driving, but she was allowed to head on home when she promised to let her passenger take the wheel. When she was busted for the final time in February, the cops found the citation from this stop in her glovebox. This little piece of paper turned out to be a small detail of big importance, because it proved definitively that she knew she wasn't supposed to be driving. (However, when she went to court she claimed that she never read the slip of paper. She blamed her decision to keep driving on Elliott Mintz, who supposedly told her it was OK for her to drive.)
The prosecutors asked the court to punish her with:
45 days in County Jail

Being forbidden to consume any alcohol for 90 days, during which time she will have to wear a monitoring device.

Having her license suspended for 4 more months

Having her car impounded at her expense for 30 days
On May 4, 2007, Paris appeared at the L.A. Metropolitan courthouse in downtown L.A. The district attorney made a big fuss about treating everyone the same. And even though the cops shut down the streets outside the courthouse when she arrived (10 minutes late), she did not get preferential treatment. The judge didn't stop at merely approving the 45 day sentence: Judge Michael T. Sauer ruled that she will not be allowed any work release, furloughs, use of an alternative jail, or electronic monitoring in lieu of jail. The only concession the judge allowed on May 4 was that she won't have to report to the Century Regional Detention Facility in Lynwood, CA until a month later on June 5 (although at some point her sentence got magically cut in half to 23 days.) In the end, she turned herself in two days before the deadline, on Sunday night, June 3rd.
Three nights later, she was released to one of the alternative sentences which her judge had rejected. Because of unspecified "medical reasons" she was allowed to go home and be under house arrest with a monitoring device on her ankle. The total length of her sentence was kicked back up to the original 45 days. Because her incarceration had spanned five calendar days, she was credited with that much time served. If all had gone according to schedule, she would have been stuck in her house in West Hollywood for 40 days until Tuesday, August 10, 2007. Politically (bearing in mind that she is highly apolitical), it probably would have been better if she could have just served her 23 days in jail. She was regarded with a certain amount of sympathy after she surrendered to the authorities, especially since she withstood some wihering ridicule from Sarah Silverman at the MTV Movie Awards. But now she has even become the target of demonstrations: an African-American community group rallied in downtown LA the day she got out to demand an investigation into her early release.
The next day, Judge Sauer hauled her back into court. He was none too pleased by the Sheriffs Department actions, since house arrest was one of the options he rejected on May 4. He overturned the LASD's decision, and Paris was literally dragged screaming, back to prison. Her attorneys filed a "habeas corpus" motion, challenging the State of California to prove that her imprisonment was legal. This was surprising since the Bush Administration abolished habeas corpus on the federal level in 2001. However, habeas corpus still applies in California state cases.
She eventually spent almost a week in a medical ward at the main "Twin Towers' jail. She apparently truly did have some major medical issues during her first three days of incarceration (apparently triggered when she went off some psychiatric meds which she didn't tell the authorities about when she surrendered.) Nevertheless, the fact that she went straight to the medical ward was sill controversial. Most prisoners who develop medical problems are ignored until the problems get so bad they can't be ignored— and maybe not even then.
On Thursday, June 14th she was sent back to the women's facility in Lynwood. (This was the same day Cheney aide and convicted felon Scooter Libby was told that sadly he would have to go to prison while his case was under appeal — well not right away, of course — that would be too cruel — but he was expected to come in to starting doing his time sometime this summer or maybe in the early fall.) And there she remained for twelve days: just after midnight on Tuesday morning, June 26th, she was set free. Her stay was fairly quiet, although there was a controversy over who would interview her when she got out and how much she would get paid (if anything) — and the case also backfired on L.A. City Attorney Rocky Delgadillo when it turned out that his own wife got a much lighter sentence for wrecking his official city car while driving with a suspended license.
It seems like a shame that she went to the slammer at a time when the likes of Bush & Cheney are allowed to run free— but her excuses were lame, and she was blatantly scoffing at the law by continuing to drive.
Some TMZ.com stories.


---
Some Happier Notes:
The original source of Paris's fame was that she was blonde and svelte and cute and came from a rich family and made a dirty movie. But there must be more to it than that. Back around the time Paris was born, in the mid 1980's, another heiress made a dirty movie— a much better dirty movie than Paris's. She even worked with a real film-maker, the great Radley Metzger. Carol Levy was every bit as blonde and every bit as svelte as Paris, and she was even richer. But she lacked something which Paris has: call it Dumb Luck, call it Good Timing, call it Lack of Shame, call it simply "It," but whatever It is, Paris has got It. For the time being at least...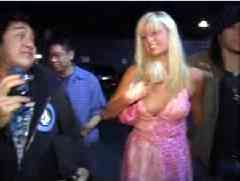 Part of her appeal is, ironically, her lack of pretense and fakery. There is very little substance to her, but what little substance there is comes across as totally real. Even her body parts seem to be real.
Refreshingly, she never uses her fame to raise public awareness of important issues (at least she didn't before her prison term); she never whines about her difficult childhood; she doesn't share her deepest feelings with us; she doesn't Support Our Troops; she doesn't call for peace on earth. Even her commercial ventures are not especially pretentious: the most noteable have been a line of not-overly-pricey perfumes and costume jewelry,
and (until her business partner fired her) a slightly cheesy disco in downtown Orlando, Club Paris.
Speaking of disco, she became a recording artist in 2006. There are bizarre rumors to the effect that she in fact has formal classical musical training, and that she actually has some talent. Bizarre rumors are Paris' forté, but that one seems just a little too farfetched. But ya never know with Paris!
In any case, it turns out she can actually sing a little. Admittedly, she's no Christina Aguilera but she's no Lindsay Lohan either. She in fact has a rather pleasant voice. For months a single called "Turn It Up" was supposedly about to come out. But in the end the first single was a reggae-flavored number called "Stars Are Blind." (This song was reminiscent of many previous reggae numbers— especially UB40's "Kingston Town." About a year after the single came out, UB40's music publishers finally went ahead and sued her, on the same day she went to jail for drunking driving.)
In August 2006, an album simply entitled Paris
was released, to a certain amount of critical derision. The critical derision was not deserved: the album was not bad at all. It sold reasonably well, although her recording contract ended up being of many contracts canceled during the early months of the Second Great Depression.
In 2008, Paris starred in a trippy movie musical called "Repo! The Genetic Opera." She plays Amber Sweet, a character not unlike herself, who sometime in the not-too-distant future is the spokeswoman for a new drug called Zydrate. She is also secretly addicted to Zydrate.
---
---
PARIS IS ENGAGED! (or not, as the case may be...)
In the Spring of 2005, Paris Hilton ostensibly got engaged— to a guy named Paris. The other Paris was a 27-year-old Greek shipping heir named Paris Latsis. (Frankly, I never heard of the guy before.) They soon broke up. She has had several lovers since then, most notably Stavros Niarchos III, guitarist Benji Madden from the whiney pseudo-indie band Good Charlotte, model Caroline d'Amore and quarterback Matt Leinart.
I moved the rest of my commentary to its own page, since this is pretty old news, and since this was neither her first nor last engagement:

Click here for some video of Paris & Paris cheerfully tolerating some rather boring pursuers. They did make a nice-looking couple, but it must have been tiresome being followed around all the time like that.
---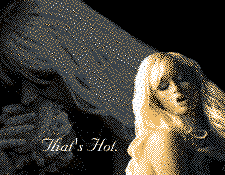 Paris Hilton's Cheeseburger Commercial
This page was originally created as a home for some commentary on Paris's infamous Carls Jr. commercial! This has been moved to a page of its own:
---
---
---
---
---
---